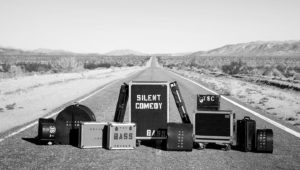 "This album is a collection of anthems for dark times," says Joshua Zimmerman. "Given the state of society today, we feel this is a perfect time to release Enemies Multiply."
Zimmerman, his brother Jeremiah, Chad Lee and Justin Buchanan are the Silent Comedy and on Friday, October 19th their long suffered and awaited third album will be released into the wild: Enemies Multiply. Now like many works of art the record is born of less than joy, yet in spite of that fact – or perhaps because of it – it is the Silent Comedy's most assured, nuanced, and full-bodied body of work to date. Just as the Silent Comedy does in live form, this record struts, rocks, jams, and expresses through full ranges of emotion and relatability: whether raging against the music industry, taking you to church, lamenting our current social climate or offering a much-needed glimmer of hope, Enemies Multiply is a timely album fully realized.
And because of that, two things are happening: On Wednesday, October 18th the Silent Comedy will bring their raucous rock revival to the Hi Hat in Los Angeles. Yes, you should be there because anyone who has seen TSC live knows how hard they throw down which is why their hometown show at the Casbah in San Diego on October 19th sold out in short order.
So it's only logical that a couple of TSC songs from the album, "Avalanche" and "Enemies Multiply" would appear in this week's update of my Music On, World Off Spotify playlist keeping company with other musical gems like:
"Rose" by Allan Rayman: Freshly signed to KidInAKorner, even as the jagged edges of Rayman's complicated smooth aim higher, "Rose" shows his game is still the same. And that's a good thing.
"123" by Jess Glynne: She's back: that English bae of the Clean Bandit house collaboration "Rather Be" and other goods. She's back with her sophomore album, Always In Between, and picking up where she left off: cranking out life/love positive pop/dance bangers.
"Recovery" by LP: One of her more vocally reserved songs yet achingly beautiful as f*#k.
Also, cheers to the good tunes from some of my Los Angeles local loves like Holy Wars with "Born Dark," Cobi's "Church of the Lonely," the ladies of Karmic offering up some "Wisdom Pie," while the Moth & the Flame keep shining up the gloom with "The New Great Depression." I do love those guys.
Of course, that's only a sample of this week's playlist picks, so cue the Music On, World Off and dig in lovelies. Here's hoping that you find a new band or artist that moves you just right so grab your tickets to the Silent Comedy at the Hi Hat on 10/18 and I'll see you there!