The Who: KARMIC (Los Angeles, CA)
The What: You have to admit that humanity is living in a unique moment in time. We don't know how history will judge our political, philosophical, cultural or scientific selves, but when it comes to our societal selves, at least we are sliding forward on human empowerment scale.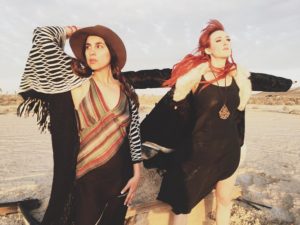 And that is something that the Los Angeles electro-pop outfit KARMIC are here for, especially with their latest track and denim-endorsed video, "Warriors."
Fronted by Laura Baruch and Kylee Katch and featuring multi-instrumentalists and producers Samuel Murphy and Peter Kastner, KARMIC embraces the sharply cool energy of pop electric while making "Warriors" make a statement:
"'Warriors' is a female forward anthem that was created to inspire all you women." KARMIC shares. "We are living in a time where it is more important than ever to stand up for what we believe in and what we deserve. Us women are powerful, determined and strong. We need to keep fighting for our rights. 'Warriors' is for the guys, too. We are all in this together. We 'can't stop, won't stop' now."
Any questions? Good. Now be a warrior. Denim uniform, optional.
The Where: You can keep with KARMIC via the usual places such as their official website, Facebook page and at @thisiskarmic on Twitter.