My name is Cortney Armitage and this is part three in a five-part stream of visual consciousness, taking a two-week photographic journey through this strange, wonderful, exhausting, and wild world of tour life with the badass rock 'n roll chanteuse called Fiona Silver.
Days 4 & 5:
Somehow the rock gods smiled upon Fiona, Chris Geller (drums), Steve Salerno (bass), Guy Fiumarelli (guitar), and myself when we glided into Canada via Niagara Falls as they gifted us with a bit of opulence: there was a mix-up with the room that was booked which resulted in us slipping into a more amazing one with a giant tub (which Guy immediately claimed as his own) and an insanely perfect view of the Falls.
Once settled we really only had one choice, which was to eat at Margaritaville (I mean, duh) and gamble the night away at the machines in the Casino. One night living like gangsters and before we knew it, we had to hit the road again and skirt our way to Toronto. There it was two sold-out shows back to back with Gary Clark Jr. at the Danforth Hall of Music and we were living that rock star life. Between shows, we were all poolside attractions instead of the normal roadside ones that we'd become accustomed to being.
The first night went off seemingly without a hitch or incident. The best part of the night for me (aside from watching the show) was watching Guy and Steve pick out something to wear beforehand. There is just something about men paying attention to fashion that just makes me happy and the Jersey boys looked good. So good. Breaking the internet good, right ladies?
The second night, however, there was a bit of commotion after the set. Something about my trick knee going out, the Canadians living up to their incredibly nice reputation by bringing their on-site paramedic to ice my knee up (I added an ice cold beer for extra support because…rock 'n roll) and – again – ensuring that the Thunder and Lightning Tour was on brand as there was a flood in the green room as the torrential rains apparently followed us to Canada. Yes, a nice paramedic was tending my busted knee as the couch in the other green room was floating away…
And so in true tour fashion, immediately after the show, we had to bust back through the border slipping back into the states in the middle of the night and under the cover of darkness. In the morning there would be a steel mill in our future.
To be continued…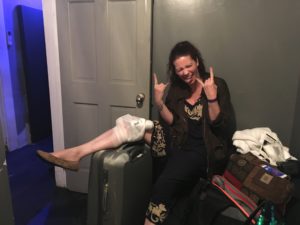 Photos & Words: Cortney Armitage