My name is Cortney Armitage and this is the first in a five-part stream of visual consciousness, taking a two-week photographic journey through this strange, wonderful, exhausting, and wild world of tour life with the badass rock 'n roll chanteuse called Fiona Silver.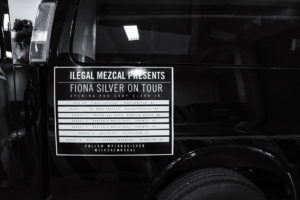 The Merriam-Webster Dictionary defines a tribe as, "a social group comprising of numerous families, clans,…or adopted strangers." I was adopted by strangers when I met Fiona Silver and guitarist Guy Fiumarelli two years ago while on assignment for a magazine. Almost a year later on Halloween night drummer Chris Geller and bassist Steve Salerno completed the tribe. As is expected within any community or society, everyone plays their part: everyone has a respective role that they create and inhabit. Sometimes those roles are overtly obvious and often they are subtle, but – as the photographer – my role is clearly defined: I am to be on the outside looking in.
I respect their space.
I watch them make music.
I take pretty pictures.
Those pictures go up on social media and we do it all over again.
But for two weeks in August, Fiona, Guy, Chris, and Steve had to put up with me capturing and telling their story through my eyes 24/7. There would be no mercy from my camera the moment we loaded up the van (sponsored by Ilegal Mezcal) and followed Gary Clark Jr. for seven shows on a leg of his tour and one stop of our very own.
Tour life and Fiona Silver: this show was about to begin.
Day #1:
Heading out from Brooklyn, NY we hit the road for the first show at the Pines Theater in Northampton, MA. It's a place where the trees seemed to grow into the sky around the stage and any anxious nerves were quickly lost in the woods after the first song was played.
This was a quasi-hometown show and tour kick-off for Fiona who spent some formative years in Massachusettes as family and friends packed in for the set and a perfect place to share the release of Silver's deeply personal song "Thunder and Lightning."
Day #2:
The following day was a day off, and jamming in the living room passed the time. Before we knew it we were out the door to the next stop at the Bud Light Amphitheater on Paper Mill Island in Baldwinsville, NY where we the parking lot became their dressing room while ensuring that the Thunder and Lightning Tour was aptly named: the rain came pouring down.
To be continued….