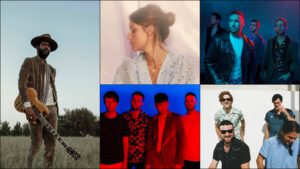 Here in America, this Friday, January 11th is Day 21 of government gridlock fuckery care of the Toddler-In-Chief and we congratulate him for being such a superb and shiny example of American Anti-Exceptionalism. Sir, we salute you…with a very specific appendage.
It's also a day when a ton of new music enters the stratosphere, and with so much to choose from and so little time, here are five choice selections worth paying attention to. Let's roll:
"This Land" – Gary Clark Jr.
It isn't every day that we are gifted a musical sound that is more scathing social commentary than mere entertainment, but yesterday was a good day because within the first 60 seconds of "This Land" (the title track from his upcoming third studio album) Gary Clark Jr. spits unvarnished "paranoid and pissed off" venom about 40 + 10 acres minus the mule, Trump country, and the perils of doing anything while Black in America…all while occupying a good, old-fashioned plantation home. Consider it something of a companion piece to Childish Gambino's "This Is America" and easily the most significant and downright riveting for-all-the-wrong-reasons song that the blues rocker in Clark has released to date. And the video? Damn.
"If You Wanna Be Loved" – Picture This
Who is Picture This? Simply the biggest selling Irish act in 2017 and 2018 who have steadily expanded their reach and appeal across many ponds due to their snappy, soulful pop tendencies and songwriting like "If You Wanna Be Loved.". The lads have been High Voltage favorites for a while and on 2/15, will release their sophomore album, MDRN LVE, via Republic Records.
"By Myself" – FIDLAR
When it comes to local Los Angeles bands, they don't come much more weirdly beloved than garage-surf-punksters, FIDLAR. So much so that local donut haven of goodness, Donut Friend, have even created a donut named after them: the FIGLAR, which may or may not cost $17.50. Either way, the foursome's hotly anticipated third album, Almost Free, comes out 1/9 (via Mom + Pop) while their new single "By Myself" is their punk noise bearing a fetchingly sophisticated pop sheen. Video courtesy of FIDLAR FaceTiming a bunch of beverage-chugging randos.
"Want You Back" – Grey (Ft. Léon)
When a Los Angeles production duo (Grey) team up with the most darling Swedish musical export since Abba (that would be LÉON), we get the warm confection bop of "Want You Back."
"Don't Cry" – Emarosa
"We're at that point where we've realized that there's no consequences for making whatever record we want to make."
And with those simple words, Emarosa frontman Bradley Whaden all but kicked the band's post-hardcore past to the curb. Having hooked up with producer Courtney Ballard (5 Seconds of Summer, Jessie J) for their upcoming album, Peach Club (out 2/9 via Hopeless Records), "Don't Cry" may be the sound of Emarosa exploring fresh, sonic territory but it's actually them just comfortably leaning on some of the old school pop goodness that informed their music love in the first place…like Michael Jackson and Paula Abdul.