"We are the music-makers, and we are the dreamers of dreams."
And so begins Arthur O'Shaughnessy's lofty and famed poem entitled, Ode. Singularly apropos to Nick Wold (vox, guitar), Nelson (bass) and Jacob Wick (drums) are the music makers…called DREAMERS.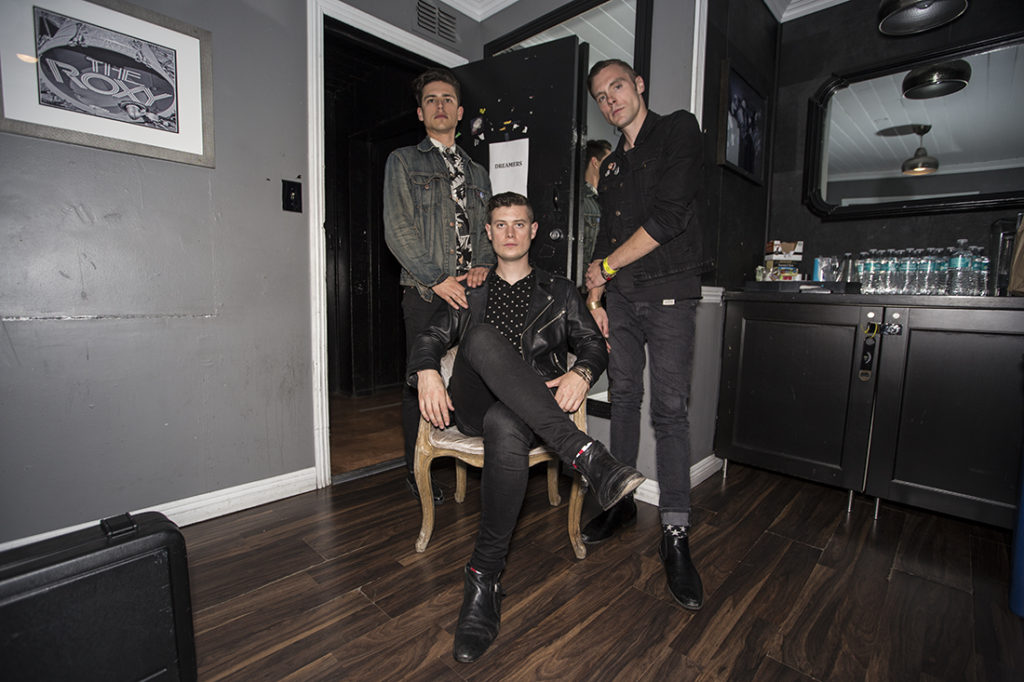 With those degrees of separation firmly in connect, let's re-explore these DREAMERS. When first we made contact with the Brooklyn, NY band, we sought
clarity
on the very nature of the songs from their
You Are Here EP
. One learns so much when one simply asks a question. If you need to catch up,
go ahead
. We'll wait…
Earlier this year the band ventured out on tour with The Karma Killers (a wonderfully spunky tour combination) where the road trip's first stop happened to be a March 10th date in Los Angeles at the famed Roxy Theatre. A band youthful in physical years and energy, DREAMERS shook things up quite nicely as we captured their presence in the wild (aka on stage) and while at rest (backstage).
In this moment, the DREAMERS experience is one of journeys, restlessness, and discovery in tune with vibrantly sharp and infectious songs. Throw in the undercurrent of being a band on the rise and it sounds like a good time for all.
BATHROOM BREAK:
No band is too cool to be immortalized in the Roxy's restroom.
PHOTO OP:
In the absence of the Roxy's proper marquee (temporarily undergoing repair at the time), do was made behind the venue. Striking a pose in front of a tagged dumpster marking Roxy ownership reminded the band of being back home in New York. The sweet smell/stench of nostalgia.
OUTLOOK FOR 2016:
Currently DREAMERS is running around on tour with Audiodamn! and The Lonely Wild. Further down the line you'll find them playing some festival dates and basking in the glow of the eventual release of their debut album.
Photo Credit: Cortney Armitage