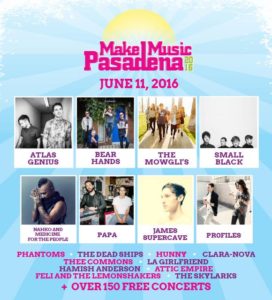 All day, all ages and FREE? Hello, Make Music Pasadena!
On Saturday June 11th, an eclectic selection of musical programming will be showcased at the 9th Annual Make Music Pasadena festival. From Australia's Atlas Genius to local favorites the Mowgli's, the Dead Ships and PAPA to Brooklyn's Bear Hands, there's bound to be a little something for anyone and everyone. Covering too many genres to mention, MMP will boast a lineup of over 150 artists featuring a mixture of established, as well as on the rise talent during the festival's 12-hour run which occupies six main stages and 30+ additional venues utilizing 20 city blocks in downtown Pasadena. See the lineup (with more to be announced) below, plus here's a Make Music Pasadena Spotify playlist for you.
Also, check out a slice of our coverage from last year's festival HERE.
MAKE MUSIC PASADENA 2016 LINEUP
Atlas Genius
Bear Hands
The Mowgli's
Small Black
Nahko and Medicine for the People
PAPA
James Supercave
Pr0files
Phantoms
The Dead Ships
HUNNY
CLARA-NOVA
Thee Commons
LA Girlfriend
The Americans
Hamish Anderson
Attic Empire
Feli and the LemonShakers
The Skylarks
Elohim
Bloodboy
Tall Tales & the Silver Lining
Zach + Bridget
Laura Jean Anderson
The Lemon Trees
Jose Galvez (OZMA)
Valley Queen
SLEEPLUST
Foxtrax
Oliver Riot
The Cold Shoulders
Snake the Deck
Steel Rod
Jonny Come Lately
My Own Holiday
Cadaver Pudding
Stink Eye
Delta 9 MCs & Cola Crew
COVER PHOTO: Sir Sly @ 2015's Make Music Pasadena (Photo credit: Chad Elder)