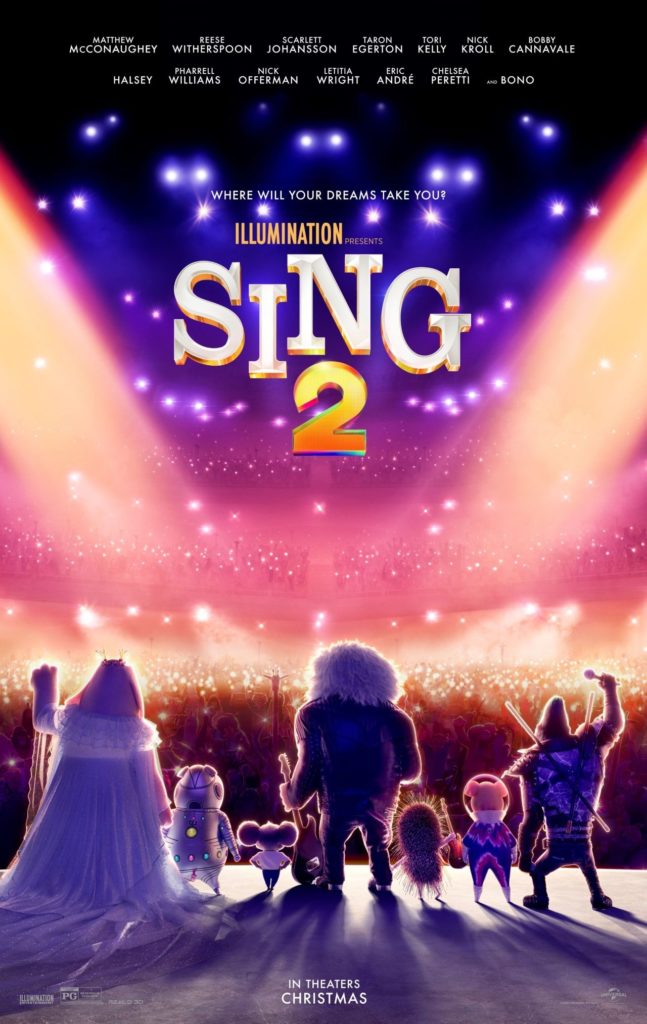 Sing 2 | Director: Garth Jennings | Rating: 8.9/11 |
Following in the tradition of the original film, Sing 2 continues unfolding the story of Buster Moon and his big dreams that are now much larger than simply saving his small town theater. Through the power of a phenomenal soundtrack, this delightful animation sends our beloved Moon Theater family to the big city lights of Redshore City. But, do they have what it takes to make it in the big time?
The simple answer is YES. From the opening number, which involves an Alice in Wonderland themed version of "Let's Go Crazy" by Prince, Sing 2 was a hit. It's not only hard to pull off an iconic number like "Let's Go Crazy," but to start the film with such a masterpiece sets the bar high for the rest of the movie. Somehow each musical number that follows is perfectly positioned to consistently build excitement and further the story line. While the U2 numbers throughout the film are fantastic, the standout piece comes from Johnny (voiced by Taron Egerton) as he unsuspectingly belts out "There's Nothing Holding Me Back" by Shawn Mendes.
Sing 2 also brings a cast of new characters like Nooshy (voiced by Letitia Wright) and Klaus Kickenklober (voiced by Adam Buxton), two of the savviest dancers in Redshore City. Nooshy is more of a street dancer, and Klaus is an award-winning choreographer. These two share the majority of Sing 2's best moments aside from one small moment where Norman's facial expression as he releases the piglets is simply everything.
Speaking of familiar faces from 2016's Sing, Miss Crawly (voiced by the Sing films own director Garth Jennings) is the true star of the entire film. From speeding down the interstate with the top down to running a military-like regime as a stage manager, Miss Crawly is the perfect example of never judging a book by it's cover.
When you really dig into it though, Sing 2 is actually a story about rebirth and inner strength. Filled with great life lessons at every turn, every character has a hurdle to overcome simultaneously and finds their phoenix moment in the end. Making Sing 2 the feel-good family movie we needed this holiday season.