The Hi Hat | Los Angeles, CA | February 6, 2020 | Photos: Dan Levitan |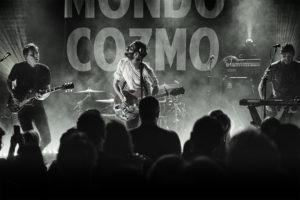 As the raucous euphoria of rock and dance party-inducing closer "Automatic" hit its final swell at a sold-out Hi Hat, an emotive Joshua Ostrander proclaimed "We are Mondo Cozmo." The words may have been simple, but they bore some heft and closed a tight circle that began on that same Hi Hat stage 1100 days prior when Mondo Cozmo played their first live show in October 2016.
It was their first Los Angeles show in over a year and a room packed with friends and familiars from Matt Pinfield to Black Rebel Motorcycle Club. All the right feeling notes were hit as Ostrander & company deftly wove "classic" MC (yes, that's what we're calling Plastic Soul songs) with the handful of fire 2019 releases "Black Cadillac," "Come On," "Generator," as well as the new unreleased gem, "Mercy."
Here's hoping that we hear "Mercy" on the next Mondo Cozmo record tentatively due out later this year (via Last Gang Records).
SETLIST: Black Cadillac / Mercy / Higher / Your Motherf*cker / Come With Me / Chemical Dream / Generator / Thunder / Hold On to Me / Come On / Plastic Soul / Shine / Automatic