THE WHO: JJ Wilde
THE WHAT: With a backbone of alt-rock rawness, singer-songwriter JJ Wilde brings the fierce combination of youth and young womanhood unabashedly front and center: see her debut EP, Wilde Eyes, Steady Hands for further and its standout single, "The Rush."
In the listening, the song's title is as self-evident and actualizing as they come. According to Wilde, it turns out that the same can be said for the genesis of the song itself.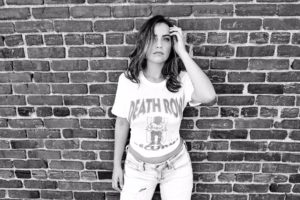 "I wrote the beginning of that song when I was hungover and late for work one morning. It actually made me even more late." says Wilde. "And then when Frederick [Thaae] and I sat down with the idea it formed into something different. It's about chaos, passion, living for the moment. For me it's empowering."
And in the watching, the Val Vega-directed video flush with primal energies presents like an exercise in and capture of various forms of rush and abandon that speak to Wilde.
"To me it was a fun play at an alter ego, different types of adrenaline and a play on what the rush could be." Wilde shares. "Someone who lives by their own rules unapologetically and, truthfully, I think there's a side of everyone that wants that."
So take a walk on Wilde's wild side with the premiere of "The Rush."
THE WHERE: After clocking some quality road time on tour with artists like the Glorious Sons, the Struts and Reignwolf, JJ Wilde is currently on her first headlining U.S. tour and has locked in support dates in Canada with Jimmy Eat World in 2020. So keep up with and find out more about Wilde in the usual places such as her official website, Facebook page and at @JJWildeChild on Twitter.
U.S. Headlining Fall  2019 Tour Dates
10/30 – Nashville, TN @ The Basement
11/1 – Indianapolis, IN @ Hi-Fi Indy
11/3 – Detroit, MI @ The Shelter
11/4 – Cleveland, OH @ House of Blues
11/5 – Philadelphia, PA @ Milkboy
11/6 – Bethlehem, PA @ Blast Furnace Room
11/8 – Washington, DC @ Songbyrd
11/9 – Pittsburgh, PA @ The Smiling Moose
11/11 – Cambridge, MA @ Middle East Upstairs
11/12 – New York, NY @ Mercury Lounge
11/14 – Chicago, IL @ Cobra Lounge
11/15 – Minneapolis, MN @ 7th Street Entry
w/ Jimmy Eat World 2020 (Canada)
4/23- Halifax, NS @ The Marquee Ballroom
4/25- Quebec City, QC @ Imperial Bell
4/26- Sherbrooke, QC @ Theatre La Granada
4/28- Montreal, QC @ Corona Theatre
4/29- Ottawa, ON @ Bronson Centre Theatre
5/01- Kingston, ON @ The Ale House
5/02- Kitchener, ON @ Elements
5/03- London, ON @London Music Hall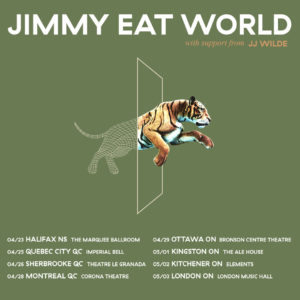 Photo Credit: Matt Barnes