THE WHO: KidEyes (Los Angeles, CA)
THE WHAT: Sometimes a band makes a music video that turns out to be a quintessential encapsulation of their song's overt or underlying spirit. Case in point, the energy that Greg Cahn and Ben Epand of the Los Angeles indie duo Kideyes inject into and evoke from their new video, "Malibu."
Yes, in the video there's sunshine and free spirits to behold, but – just as with "Malibu's" lyrical earnestness – there's also how KidEyes capture the emotional sensory feel of when glorious little moments of victory and freedom are woven into the real struggle that life can be. Nothing says "struggle" like running out of gas or vehicles breaking down when you're just trying to get through the day.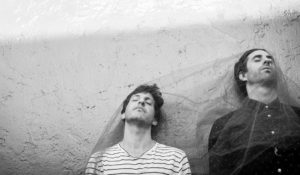 You can find "Malibu" on KidEyes' self-titled debut EP (officially out today) which, according to Cahn, are a collection of songs that came from a very specific place:
"This debut EP was written at a very emotional and turbulent moment for both of us," vocalist Cahn explains. "We were experiencing personal heartaches, and those early writing sessions and eventual songs became vehicles to move through those confusing winds. These songs embody fear, triumph, and somewhere in between."
These songs also remind us that life's imperfections often tend to be the creative spark for some damned good songs.
THE WHERE: You can find out more and keep up with KidEyes in the usual places such as Facebook, Instagram and at @KidEyesOfficial on Twitter.
Photos: Cameron Jordan