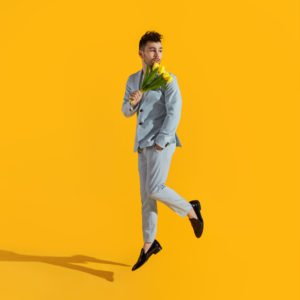 These days it's difficult to think of MAX as anything other than lightning in a bright yellow bottle.
With his 2016 breakthrough hit "Lights Down Low" followed by his debut album Hell's Kitchen Angel, teaming up with Noah Cyrus for the song "Team," along with other collaborations, MAX has planted himself in pop music landscape as a star on the rise. The native New Yorker is a storyteller of the open-faced and honest kind who wraps all that vulnerability up in addictive beats, grooves, and hooks. Lately, he's wrapped himself and his music up in his fondness for and embrace of the color yellow. It's all a very good look and sound on MAX.
His latest single, "Love Me Less (feat. Quinn XCII)," has racked up over 40 million streams on Spotify and is exactly the kind of song that you would expect to hear from him. It's MAX fleshing out the all too real insecurities about the one you love loving even the worst of you for all to see. You've been there, he's been there – the only difference is that MAX can kick a pure jam out of all the awkward.
In May, MAX announced a handful of tour dates dubbed The Intimate AF Tour with shows in Chicago, Los Angeles and New York City at cozy venues like Schubas, the Troubadour, and the Mercury Lounge (with additional dates scheduled). With a new album enroute, such an approach seems a perfect and perfectly logical vehicle to showcase new music for a captive audience so we had a few questions for the gentleman which somehow led to Elton John…because what yellow (bricked) road doesn't lead to Elton John?
The first and most obvious question for me would be why a tour that's "intimate AF"? What does that mean to you, performance-wise?
MAX: When I started out all of my shows were tiny, intimate, outrageously energized and sweaty shows. I've been lucky to play to huge rooms of people or arenas, but there's something to special about feeling the energy from each human in there room. Felt like the perfect new beginning to start this new music from the album with it.
When I think about it, an intimate theme makes more sense because you've got some pure singer/songwriter tendencies. Meaning your songs tend to tell these very personal little stories because you're not allergic to sharing. And while your music is intrinsically modern pop, a song like "Love Me Less" is basic human emotion. Do you ever marvel at how a particular song (or music, in general) can just cut right through the BS and put everyone – no matter who they are – on common ground?
MAX: Ughhhh, I love that. To me even if a song is uptempo and filled with crazy production like "Love Me Less" is, the most special part is always the core of the story. The thing that makes us all human. For me, that's always the foundation of all my songs – an experience I can bottle up and share to make not just mine, but for all.
Your full-length debut – 2016's Hell's Kitchen Angel – was a full-bodied, R&B-flavored, dance pop affair. At some point this year your next record is expected to be released, which would make a solid 3 years between albums. What can we expect the last 3 years of MAX's life to sound like in musical form?
MAX: Time flies ha ha! I've definitely been diving into the production world of the "Love Me Less" with guys like Imad and Roget who produced that track more and more. Elevating the sound from the last album while still really keeping those stories pure and messages intact. This new record feels like everything that I've done before, but with some shiny new toys and a major twist in appreciation and energy given my darker experiences in the last year and a half.
Since you're on the road, I imagine that you occasionally spend some of your time with headphones on. I'd like to know what artists or playlists I would find you listening to if I opened your iTunes or Spotify right now.
MAX: I'm certainly obsessed with the new Tyler The Creator album, IGOR. I love Rex Orange County, Frank Ocean, Alabama Shakes, Anderson Paak. And then always supporting the homies like Quinn XCII, Louis The Child, Whethan, Phony Ppl, Nina Nesbitt.
Random question time: Have you seen Rocketman? Please tell me you've seen Rocketman. I'm asking this because, 1) it's PHENOMENAL and, 2) you're going to get all intimate with us in LA at the Troubadour…where it all began for Elton John in America.
MAX: I WISH! I haven't seen a movie in theaters in years. I watch all of my new movies on Delta flights since all we do is fly, do shows, and come home to make more music! But I will certainly see it because Elton John vibes/fashion are my everything, always. Obsessed with the Troubadour – that's gonna be a special show.