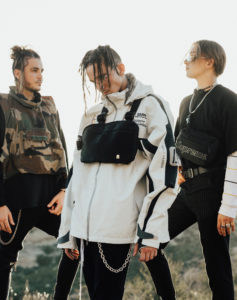 2019 is looking like a banner year for brothers Mitchel and Clinton Cave, and Christian Anthony. As the Australian rhythmic alt-pop trio Chase Atlantic with a couple of EPs, a debut album, major festival stage slots, and sold out shows around the world under their belt, the guys have leaned forward into their love for mashing pop, rock, R&B, and beats together with an emotional edge to actualize the next phase: their upcoming sophomore record, PHASES.
Due out on 6/28, Mitchel describes the album as, "…a defined nocturnal bliss of our own," with subject matter that reaches a little deeper and darker than their previous output. That being said, Mitchel also points out a Chase Atlantic-constant:
"We make music that is hard to define by genre but easy to enjoy."
With a brand new album of music comes taking that music out to play live which is exactly what Chase Atlantic are up to on their 29-date North American headlining PHASES Tour (presented by Ones To Watch and The Noise). And because tour life is an interesting life, I had a few questions for the band about life on the road because, when you're Chase Atlantic, #TourHappens.
First off: Happy Summer tour! You've a new album coming out plus the tour is being presented by Live Nation's Ones To Watch and The Noise – not too shabby.
"Thank you!"
Now having formed in 2014 Chase Atlantic is a fairly young band, but you've got some miles on you when it comes to touring – but that very first tour is a moment. Do you remember what your first official tour was like and how you felt going on the road as professional musicians?
"We started touring in full time in September 2017. We were one of four bands opening up for Sleeping With Sirens. It was a little surreal going on the road not exactly sure what to expect. We had done Australian tours, but those are only three or four shows, usually. Lots of fun memories on that first tour. It was a huge learning experience for us learning how to act and how to be respectful to crews and the bands you're opening for."
There's no substitute for respect, that's for sure. Now for better or worse, road life always equals road eats, so be honest: what are your eating habits like while on tour? I may or may not be judging you…
"We usually try to find a nice restaurant once we are in a city. But on the road while we are driving it's a lot of truck stop burgers, Subway, and whatever Clinton can find that is vegan which can be super tough."
I'm sending some extra food karma your way, Clinton. Since your summer tour is a headlining one, let's talk what's important: the tour rider. What are some absolute MUST HAVES on your rider?
"Water, beer, chips and dip, towels, and some gum."
You may have the most budget-friendly tour rider staples ever. You'll be covering a lot of American ground with dates in places like Dallas, Boston, Denver, Seattle, Nashville, Los Angeles, Omaha, etc. What are some of the best accents that you've discovered in our weird little country?
"We are a fan of the southern accent, for sure. It's very crazy how many different states have different accents."
Now other than the obvious answer of your gear, what can you simply NOT go on tour without?
"Nintendo switch, and a laptop for making music and editing."
What are your Top 5 Tour Do's and Don'ts?
"Do: Drink water.

Don't: Miss bus call.

Do: Take care of your hygiene – lots of showers and brushing your teeth.

Don't: Miss bus call.

Do: Sleep."
So basic but so important. Since tour life is actually hard work, what are some lessons that being on the road for long stretches of time have taught you?
"Condition yourself a little before by going to the gym and eating as healthy as possible. Drink lots of water, and when heavy lifting always use your legs."
That last bit…a cardinal rule in real life and tour life. Have you mastered the art of living out of a suitcase yet?
"I do not believe we have. It's an art form that you can never truly master. But we do our best."
Finally, for those who have not yet had the pleasure, describe a Chase Atlantic show.
"An escape from reality. A high energy show with lots of crowd interaction. Insane visuals, light show, and – of course – cool music."
Very cool, indeed. Thanks for your time, guys, and have a great tour!
Chase Atlantic's North American PHASES Tour is underway and runs through the end of July so check out their tour dates HERE.