The Echoplex | Los Angeles, CA | May 26, 2019 | Photo & Words: ZB Images |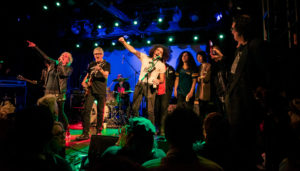 Part Time Punks and Spaceland Presents held a benefit for Jimmy Wilsey (who died Christmas Eve of 2018) and his surviving son, Waylon, at the Echoplex. Wilsey was one of the original members of the California OG punk band, Avengers, who headlined the event with Avengers original members Penelope Houston, Greg Ingraham, and – flying all the way from Sweden – Danny Furious. They were joined by Hector Penalosa from the Zeros on bass along with a bunch of friends who knew Wilsey. He was probably best known as the lead guitarist for Chris Isaak's band, Silverstone, and having created the iconic guitar opening of Isaak's "Wicked Game" but Wilsey also struggled with addiction.
Opening the early show were the Alley Cats and a newly rebirthed the Dils who have only a few more performances scheduled during the band's reincarnation. Lots of familiar faces were in the audience to support this benefit and there is a GoFundMe for Waylon. It feels like a sign of the times that so much attention has been focused on punk's original pioneers and it's great to be able to catch the founders of the movement before we lose them all.
The final song of the night was a bit of a torch pass as Dils members Giulano Scarfo and Brian Melendez were joined by the rest of their new band, Katatonic: a sign that punk will always have a home in Los Angeles.
Avengers
The Dils
Alley Cats