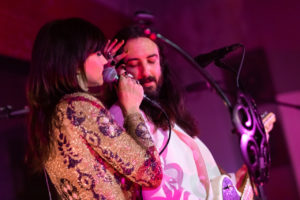 The email was simple but vague. Thursday, March 28th. Limited capacity. RSVP essential. One night only. An immersive, multi-sensory music experience.
I had just been invited to The Pink Chateau.
Album shows, parties and events are fairly commonplace but very little about the husband and wife duo In The Valley Below is commonplace. Since debuting in 2013, the sonic and visual aesthetic that Jeffrey Jacob and Angela Gail have cultivated with their elegant and noir-ish electro pop bears an icy hot restraint that feels one popped button away from the loss of all inhibitions. Their sultry and potent sophomore album, The Pink Chateau (Bright Antenna Records), comes out 4/26 and presenting their work via traditional means obviously would not suffice for In The Valley Below.
While also simple, the event's advance information was intriguing to the bone:
An address to a nondescript building in Los Angeles, something about wearing comfortable shoes, leaving inhibitions at home and doors being locked. A brief "If you never hear from me again, it's been nice knowing you" Facebook status update felt in order.
It was sensory and tactile. It was sensuous and NSFW. Immersive. Visual. At one point it was even delicious – that point being when I was hand-fed raspberries by a beautiful woman. Headphones were employed ensuring that we enjoyed The Pink Chateau within our own headspace as we moved from room to room, from experience to experience. All the while performers moved about the Pink Chateau tying ribbons around our wrists, making eye contact, mentally flirting with smiles, roses, and gestures. Interaction? Lounging? Creativity? Encouraged. And it all culminated with In The Valley Below taking the stage to perform a mini-set of songs from the album: again, with headphones still employed steeping us in live Jacob and Gail. Did it feel as if they were singing directly to me? Yes, it did.
What felt as if we had entered an exclusive sex club-lite atmosphere (minus the terrible music) was a genuinely genius concept of vision where the word 'experience' cannot be overused because In The Valley Below made the conscious decision to stimulate all five senses – sight, sound, touch, taste, and smell – in order to listen to a damned album.
Basically, they may have spoiled me for future album events or, at the very least, caused me to expect folks to step up their artistic game in the process.
A feature film accompanies The Pink Chateau album (see video/trailer below), In The Valley Below are taking both on tour at select Alamo Drafthouse Cinemas and you can find those tour dates HERE.
All Photos: Brian Feinzimer