The Who: Sego (Los Angeles, CA)
When Sego first presented itself in 2014 as a duo, Spencer Petersen and Thomas Carroll were fleshing out the thoroughly intriguing sound of a jagged little art-rock/punk pill; more avant-garde and danceable than run-of-the-mill indie fare.
Fast forward 4+ years, one full-length album and the addition of Alyssa Davey and Brandon McBride (alomg with his adorably messy man bun) to the lineup later, and Sego continues to flex their musical muscle in ways like "Shame" from their upcoming and cheekily titled sophomore album, Sego Sucks (out 4/5 via Roll Call Records). Directed by Matt Odom, the video is a spastic stockpile of gear, band practice, a mystery horse head, and Peterson's poker-faced delivery of inner thoughts questioning his place in this modern world. We're almost tempted to call it quintessential Sego, but is there such a thing?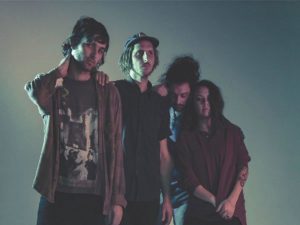 If "quintessential Sego" means atmospheric, animated, and agi-rock resonance that can get a party started, then yes.
The Where: Feel free to check out and keep up with all things Sego via the usual places such as their official website, Facebook page and at @Sego_Music on Twitter.