The Satellite | Los Angeles, CA | December, 17, 2018| Photos: ZB Images |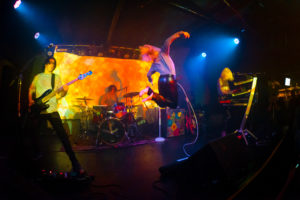 We are going to keep this simple even though, musically, Yip Yops are far from it: something deliciously synthy, poppy, punky, and New Wave-wicked this way has come in the form of Ison Van Winkle (vox/guitar), Ross Murakami (drums), Jacob Gutierrez (bass) and Mari Brossfield (keys/vox and sporting fresh blond hairs that we are absolutely here for). On the final residency night of 2018 at the Satellite, the foursome (all under the age of 25) kicked off the night diving the room into the deep end of damned mature spasmatic dance party grooves, rugged rhythms, and layers of synths all while Van Winkle yelped, crooned, and caught air like a pro skateboarder. When we think about what the musical future looks and sounds like, Los Angeles forecasts Yip Yops under sunny and bright.
Who says youth is wasted on the young?