Bowery Ballroom | New York, CA | October 3, 2018 | Photos: Cortney Armitage | Words: Fred Sahai |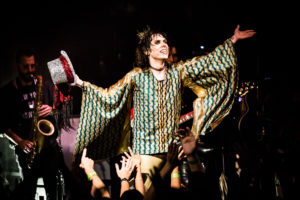 "No one tells me what I can and cannot fucking do!" declared Luke Spiller, the androgynous frontman of the UK glam rock band The Struts, to the second sold-out crowd that he and bandmates Adam Slack (guitar), Jed Elliott (bass), and Gethin Davies (drums) played to at New York City's Bowery Ballroom on their Body Talks Tour. Spiller was alluding to some negative comments that he had come across regarding the band's most recent single, "Bulletproof Baby," which – of course – they then performed and comes from their upcoming album Young and Dangerous, set for release on October 26th.
Indeed, it's hard to imagine the exuberant singer caring much about what others think. Clad in a fringy black and gold leather two-piece (the first of four stunning outfits that he would flaunt during the night) Spiller owned the crowd from the moment the heel of his snake-skin boot made contact with the stage.
Fittingly the Struts opened with "Primadonna Like Me" (another single from their forthcoming record) followed by "Body Talks" setting the tone for the evening of extravagant entertainment yet to come. It's worth noting that even though the Struts are a relatively "young" band, their retro classic rock sound has found its fans amongst those of all ages. In the front rows, alone, you could spy college freshmen and moms of college freshmen pumping their fists alongside greying headbangers.
The set also featured unreleased tracks from the new album such as "Fire (Part 1)" and "Ashes (Part 2)".  The former ripe with a catchy energetic chorus as most Struts rockers are, and the latter a ballad featuring Spiller on the piano. It's worth pointing out that even though he easily commands the stage (which seemed entirely too small for his massive presence) with dance moves that rival Mick Jagger's, Spiller truly shines on the piano. It is during songs like "One Night Only" where the Freddie Mercury comparisons that he is so often subjected to really do hold true. Confined to staying behind his instrument, Spiller let his powerful vocal range do all of the theatrics for him in a rendition the song that could simply be described as grand.
Another highlight came when the band covered the Bruce Springsteen classic "Dancing in the Dark" where Spiller invited one lucky fan on stage to "be his Courtney Cox." One could easily assume that his larger-than-life persona would make Spiller unapproachable, but on the contrary: a Struts show is as much about the crowd as it is about him. Making it his business to actively engage with the audience, Spiller made sure people that were dancing and even challenged them to sing-offs amongst each other and it is those generous performance moments that make going to a Struts concert very much a unique experience. Especially in a venue as intimate as the Bowery because you weren't merely watching a Struts show: you were a part of it.