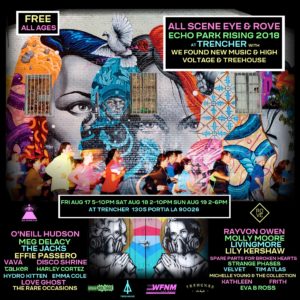 Another year, another Echo Park Rising!
Now in its 8th year, Echo Park Rising which runs from Thursday, August 16th to Sunday, August 19th continues to be THE local-centric Los Angeles summer festival (for the low, low price of FREE) due to its pointed focus on local musicians, small businesses, creativity, and diversity in Echo Park. Throughout the four days a bounty of musical talent will spread across multiple stages at multiple venues or pop-up spaces ensuring that there will definitely be something for everyone to enjoy.
This year High Voltage has partnered with All Scene Eye, ROVE, We Found New Music and Treehouse for 3 days of official Echo Park Rising showcases at Trencher featuring artists like Vavá, Emma Cole, the Rare Occasions, Molly Moore, Spare Parts For Broken Hearts, Rayvon Owen, Livingmore, the Jacks and more.
Check out the full All Scene Eye/ROVE lineup below along with a Spotify playlist primer of showcase artists.
FRIDAY, AUGUST 17TH @ TRENCHER (PRESENTED BY ALL SCENE EYE + ROVE + WE FOUND NEW MUSIC)
5:15pm Kathleen
6:00pm Emma Cole
6:45pm talker (Celeste of Frenship)
7:30pm Disco Shrine
8:15pm Meg Delacy
9:00pm Molly Moore
SATURDAY, AUGUST 18TH @ TRENCHER (PRESENTED BY ALL SCENE EYE + ROVE + HIGH VOLTAGE MAGAZINE)
2:30pm Hydro Kitten
3:15pm Vavá
4:00pm Love Ghost
4:45pm Michelle Young and the Collection
5:30pm Velvet
6:15pm Spare Parts for Broken Hearts
7:00pm Livingmore
7:45pm Strange Phases
8:30pm Harley Cortez
9:15pm The Jacks
SUNDAY, AUGUST 19TH @ TRENCHER (PRESENTED BY ALL SCENE EYE + ROVE + TREEHOUSE)
2:00pm Eva B Ross
2:25pm Tim Atlas
2:50pm Frith
3:15pm The Rare Occasions
3:40pm Lily Kershaw
4:05pm Effie Passero (2018 American Idol Top 24)
4:30pm O'neill Hudson (Paris Carney)
5:00pm Rayvon Owen (American Idol & Postmodern Jukebox)
5:30pm TBD – Special Guest