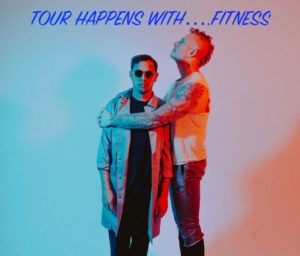 Between the two of them, Max Collins and Kenny Carkeet have a few decades of band and band touring experience behind them. Most easily referenced: Collins with Eve 6 and Carkeet with AWOLNATION.
After randomly meeting at a festival in 2012 and staying in touch, Collins and Carkeet decided to spread their creative wings and in FITNESS was born. Swerving out of the straightforward rock lane, FITNESS veered towards surprisingly cohesive and satisfying electro-pop/rock fusion. In the fall of 2017 came the fully formed Aggroculture EP which they just followed up with their full-length debut album, Karate (released June 29th).
So with a new band and new music comes the need/desire to take that music directly to the people and that's exactly what FITNESS has been up to. After years on the road, one can imagine that Collins and Carkeet have learned a thing or two about the art of touring and Collins was kind enough to share some of his very unique insights about tour life and even curated a Spotify playlist of songs for the road. Why? Because tour happens…
Q: Think back: do you remember what it felt like the very first time that you officially went on a tour as a musician? When/how old were you/with what band?
"My first tour was a van tour with Eve 6. I was 19 years old. The first thing that leaps to mind is the surplus of urine filled Gatorade bottles that we had rolling around in that thing. You couldn't open the door without a bottle of piss falling out. We were also underage during that tour so we had to wait outside at some of the venues until our set time, do the show and then quickly exit."
Q: Other than the obvious answer of your gear, what are some things that you simply CANNOT go on tour without?
"A family-sized tube of Aquaphor: no reason."
Q: What are your top 10 Tour Do's and Don'ts?
1) Do put socks and underwear on the rider

2) Do not eat truck stop burritos at 4am

3) Do not saunter around the lobby of the Crowne Plaza Hotel in Pittsburgh nude.

4) Do not drive with weed in Texas and, if you do, don't speed

5) Double check your door to make sure the Do Not Disturb sign doesn't fall off when you shut it

6) Learn how to say "I don't need service" while still asleep

7) Learn how to say "I have a late checkout" while still asleep

8) Make sure your tour manager ALWAYS gets a late checkout

9) Don't eat the wings at Girls Girls Girls in Wichita

10) Call your mom
Q: Be honest: what are your eating habits like while on the road? 
Q: What's the weirdest thing that you've ever requested on your tour rider?
Q: What's your favorite way to spend a tour day off? 
"I like to find a pool and swim laps. It's like a meditation and it's both relaxing and energizing. I get perspective from the water."
Q: What is your favorite thing about being on tour?
"The show. That's the hour of the day that makes all the madness worth it. The connection with the audience, the expression, the shared moments."