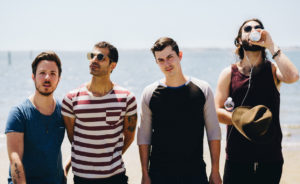 It was in May of this year when last we saw heard from Ryan Colt Levy (vox, guitar), Derek Tramont (bass), Scott Goldbaum (vox/guitar), and Thomas Killian McPhillips VII (drums) of the Los Angeles-by-way-of-New York City indie rock outfit BRAEVES with their single "Pull Me In." It was a song which carried that familiar jaunt and indie airiness that BRAEVES fans have become familiar with.
Now the foursome return with "Lions" which, in word and measure, "…moves in a tribal meditation of sorts." says Levy. And while the air is still there, the song also sports a lithe, pliant groove that very effectively gives the feel of being stalked by the feline in question.
"Sonically this song took a massive detour from our usual comfort zone of guitar city." Levy continues. "It's essentially a synth freak show of lush weird tones that all seemed to fit the true nature and character of 'Lions' narrative."
That nature and narrative mined are particularly introspective as producer Grayson Sanders was on board to help shape the song's sonic vision. Levy adds that "Lions" is, "about reinvention of the soul. Looking into experiences and errors of our past in order to craft a brighter future for ourselves and community at large."
That definitely sounds like a more positive outcome than being trailed by a large, carnivorous cat…unless, of course, you're into that sort of thing.
On August 22nd you can hear BRAEVES play "Lions" and more live along with Dylan Dunlap and My Brothers & I at the Peppermint Club in West Hollywood.