The Hi Hat | Los Angeles, CA | June 29, 2018 | Photos: ZB Images |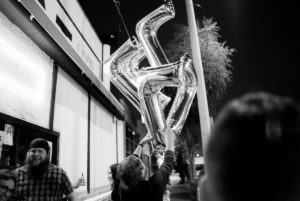 We gave you the scoop on what was going down on Friday, June 29th at the Hi Hat, didn't we?
Yes, we did: Badass Bands 7th Anniversary show.
And a blast was had as a mass of friends assembled to rock, dance, socialize and simply celebrate all of the good that Badass Bands' founder Jolynn Braswell has brought to our Los Angeles music community. Friends VOWWS, YIP YOPS, and EasyFriend provided the terrific live musical entertainment while DJ Alain spun some serious tunes between sets and made it extremely difficult for folks to leave the building at the end of the night.
Chalk up yet another Badass Bands night done right and we can't wait to do it again next year.
YIP YOPS
EASYFRIEND
VOWWS
BADASS FRIENDS (what a Badass Bands event always looks like)