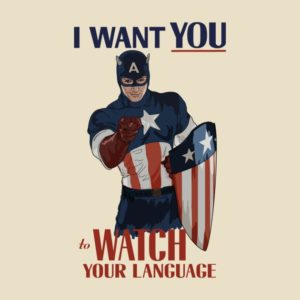 If you've ever been of the mind and subscribed to the stereotype that people who curse/swear/use bad words on the regular do so because they aren't that smart or just can't find more intelligent words to use, well fuck you. And that's not only me talking: science also says otherwise.
The Language Sciences Journal studied that antique theory and concluded that people who curse/swear actually have a greater vocabulary than those who don't. Plus, this second (and fascinatingly funny) study shows that potty mouth-ness actually has its benefits.
Now why did I go there? Simply because my updated MUSIC ON, WORLD OFF Spotify playlist contains three delightful songs tagged "EXPLICIT" from folks who have serious shit to say like "Body Count" by Jessie Reyez as the Ontario, Canada native keeps things awfully real giving voice to not needing anyone's permission to love whomever she pleases. English singer-songwriter Tom Odell pleads his personal case in "If You Wanna Love Somebody" and repeat MOWO playlist offender Donna Missal is down with a little deception in "Keep Lying." Check this version live at Capitol Studios and if you aren't flooded by chills, you're probably not human. Just saying.
While sans any bad words, experience the "Hunger" of the lovely Florence + The Machine while Scottish gent ONR shares a new wavey ode to relationship-ing with "Love In Suburbia," and – new band alert – as the Los Angeles quintet Talk Time released their debut single, "Year of Self" (help yourself to learning where their band name came from in our interview). Some Deaf Havana and DREAMERS, long-term love with Billy Raffoul, a "Crisis Fest" with Sunflower Bean, Kassi Ashton and if you appreciate the heavy bludgeon of 90s grunge then you'll dig the Dose and their latest single, "Vervain."
Here's to another week of great music to dig into so cue up MUSIC ON, WORLD OFF, get to jamming and don't forget to show off how intelligent you really are by slipping an f-bomb into the conversation every now and then.