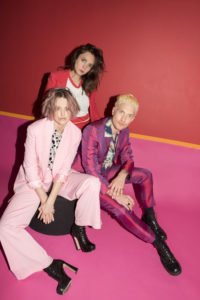 Look at them. Siouxsie Medley, Emily Armstrong and Sean Friday. Just look at them: Are they or are they not cute as fuck?
Yeah, they are. 'Sup, Dead Sara?
When you dig into this week's edition of my MUSIC ON, WORLD OFF Spotify playlist you'll find that one of my absolute FAVORITE bands, Los Angeles rockers Dead Sara, make up 30.769% of the playlist with four songs. Why is that, you ask? Because on Friday their shiny, new 6-song Temporary Things Taking Up Space EP (produced by Tony Hoffer) was released into the wild via Atlantic Records. If not for the fact that the EP's two previously released songs ("Unamerican" and "Heaven's Got A Backdoor") have already appeared in my playlist, Dead Sara would be 46%-ers.
Temporary Things… is the sound of a band that has been making heads bang and cool kids devolve into slam circles for a decade spreading their gritty, sonic rock wings by welcoming co-writers (like Simon Katz and Tommy English), integrating fuzzier guitar tones, and a dash of synths for a collection of songs that, while finer-tuned on a personal level, are still fierce with rock and roll agitation and ambition. "One Day We'll Make It Big" may be the most on-the-nose and necessary bit of reflection they've ever recorded.
Seriously, they really are cute as fuck. And about to hit the road on tour. You're welcome.
As for the other playlist goodies to enjoy, bands with new albums coming down the pike soon are all the rage like The Record Company who get nostalgic with "The Movie Song" and Interpol who…well, "The Rover." It takes the mighty lady duo of Deap Vally less than two minutes to "Get Gone," a reinvigorated Company of Thieves delivers a "Treasure," Brooklyn's Spirit Animal believe in "Karma" (put these guys on your list of bands to see live) and LA's Badflower take a deep, dark dive inward with "Ghost."
Yes, there's more but you'll get to them when you press PLAY, so get in there and enjoy because…MUSIC ON, WORLD OFF.