The Echo | Los Angeles, CA | April 30, 2018 | Photos: ZB Images |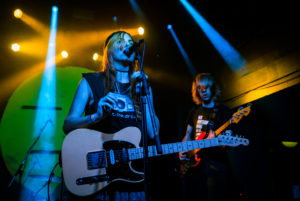 And that's a marvelous wrap on the month-long stand that Los Angeles purveyors of muscular grunge pop, Ramonda Hammer, made at the Echo during their Monday night residency and we're a little sad to see them go. The combination of Devin Davis' (vox/guitar) raw wail with the full-throttle way that Andy Hengl (bass), Justin Geter (guitar) and Mark Edwards (drums) bring the 90s into the 00s is a little bit glorious and a lot welcome.
For five weeks Ramonda Hammer demonstrated why they're a fierce representation of the music scene that they inhabit: in addition to weekly band member-centric getting-to-know-Ramonda Hammer themes (this week required all band members sporting a ball cap to the back ala Geter), they also curated lineups that not only complemented their sound but also broadened the listening palate for their audience. This week featured the funky and jittery electro-rock of Ever So Android, the heft and slightly metallic doom of Iress, and Yip Yops (please don't sleep on this band) who specialize in electrifying dance music for folks who like rock: just ask Kevin Bronson. All pretty fine fare for the room full of friends and familiars: heads banged, hips moved and the minds of music lovers were appropriately blown.
Now what are we supposed to do with ourselves on Monday nights?
Ramonda Hammer
Yip Yops
Ever So Android
Iress