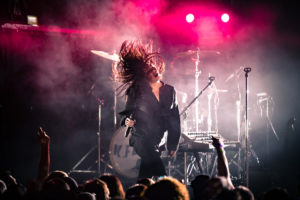 Irving Plaza | New York, NY | March 19, 2018 | Words & Photos: Cortney Armitage |
K.Flay tore it up at her sold-out show at Irving Plaza, no easy feat on a Monday night in the heart of New York City. We've been following Ms. Kristine Flaherty's musical journey for years now, so when the lights went low and Irving Plaza started chanting, "K.FLAY!!! K.FLAY!!!K.FLAY!!!," even this jaded gal got a little warm in heart and she did not disappoint. Raising her glass to anyone who has been in an unrequited love affair, K.Flay reminded anyone who wasn't feeling worthy that they had so much more to offer then they knew. In these crazy times, she feels like the human hero that we need and one we should raise our glasses to even higher.
With the incredible assist from UK's Yungblud (aka Dominic Harrison), New York City shined a bit brighter with him jamming out his frenetic set of hip hopped-up alt pop.
K.Flay
Yungblud