The Fonda Theatre | Los Angeles, CA | March 4, 2018 | Photos: ZB Images |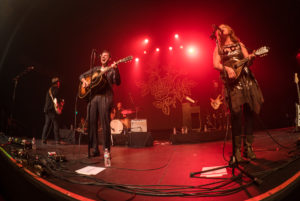 There's just something about the Lone Bellow. Something about the elegant three-part harmony spell that Zach Williams, Kanene Donehey Pipkin and Brian Elmquist weave. Something about their warm-blooded indie folk that feels like an emotional revelation. With their freshly released third album, Walk Into A Storm, the trio brought their earnest sound of hope, pain, love and beauty to a Los Angeles crowd that welcomed them with open arms. There were too many highlights to note (such as "Come Break My Heart Again" and "Watch Over Us" during the mid-crowd acoustic set…our hearts!) like "Feather," "You Never Need Nobody," and "Green Eyes and a Heart of Gold" and soulful-stirring show closer "Then Came The Morning" but before launching into the album jewel, "May You Be Well," Williams confessed that he had been waiting to sing the song in LA.
I can only hope that Williams enjoyed that moment half as much as the crowd did.
Opening the show was the extraordinary rootsy soul and blues of Devon Gilfillian. Al Green would approve.
The Lone Bellow
Devon Gilfillian