The Who: MONA (Nashville, TN)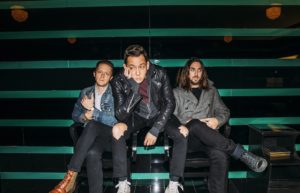 The What:
So…where was MONA when the rest of us had to suffer through bad prom DJs? No, seriously…
Moving on. Just in time for Valentine's Day, Nick Brown puts his powerful voice to work and enlists friends Langley Fox and Madison Paige to lend character assists to deliver a love and sex-positive video message.
"It is very important to us to let the people in our lives know simply that no matter what walk of life you take that you are loved and accepted and have our support," says Brown. "We wanted to address a playful and joyful approach to these topics. Not taking them lightly but just to remind us all that there is joy in being yourself. Embrace it!"
Done, Nick. Now, who do we have to contact to get MONA to play our house party? No, seriously…
The Where: Stay tuned for fresh new music later this year butin the meantime, keep up with all things MONA via their official website, Facebook page and at @MONATheBand on Twitter.