"You know, the craziest thing is having a sold-out show in a place you've never been before. That's mind blowing to me."
Indeed.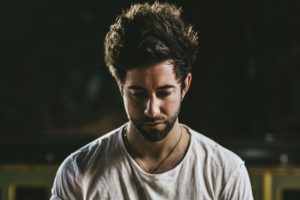 Bruno is in London and I'm in Los Angeles. An international chat and I have concern for his cellular bill. The last time that he performed in LA was his first time performing in LA: a sold-out night at the Echo where the audience was so attentively quiet that he could hear the shutters of iPhone cameras in the room. That was followed by a second show (a decidedly different but no less packed affair) at Bardot where he had a bit of a technical battle on his hands: his guitar kept breaking. But both nights were experiences that Bruno seems to relish: despite the guitar thing, he called Bardot "super fun and loud," whereas the focused Echo audience was "…the most amazing thing; it's just like you're in a room full of your friends."
Hey LA, cheers for upending our notoriously douchey reputation and making the English guy feel at home. High five.
After releasing one song for every moon/month – a literal act that began in August 2016, culminated in August 2107 with the end result being the full album A Song For Every Moon – those 12 songs on that one album served Bruno quite well as evidenced by the fact that he keeps finding himself in that odd and "mind blowing" position of having his shows sell out (and doing so well in advance) in cities where he's never before performed, let alone cities that he has never even been to. He may have to get used to that.
Why? Because at 29, Bruno is a purveyor of sultry, minimalistic intimacy by way of verse/chorus/verse and jazz-flavored soulful pop that is oh so relatable, and a new year means it's time to embark upon a healthy headlining North American and UK tour where those sold-out well in advance shows come into play. With an oeuvre that senses far more classic standard than contemporary, if the universe acted accordingly, Bruno's gigs would take place in smoke (or vape)-filled basement supper clubs flush with the right kind of people on the wrong side of town. Come for the entrée and stay some emotional excavation like "Easily," "Places We Won't Walk," "In Cold Blood" and "On Our Own" on the side; songs that are deeply expressive captures of the human condition. These deep narratives, Bruno is pretty good at crafting even if the conditions aren't necessarily his.
"People read so much into what artists are saying but, ultimately, our job is not to describe our own emotions; our job is to describe emotions that other people have."
Thanks to that astute consideration, my single most favorite quote entered the conversation: "Music is what our feelings sound like." Bruno seemed to approve.
When the tour kicks off in February, in addition to giving rooms full of "friends" a waterfall of feels, this will be a chance for Bruno to let the tourist in him come out and play. Places like the UK, Toronto, Los Angeles, New York and Florida are places that he has visited, but there is so much more to explore. Heads up, USA…
"I haven't been to most places in America – the vast majority of America, I've never been to. I can't wait to just explore and visit all of these very famous places I've heard so much about and seen in movies and read in books."
Hello, Philadelphia…
"This is going to sound really ignorant and obvious but – we have Philly cheesesteak sandwiches over here [in London] – but I've actually never had one from Philadelphia. So, I'm gonna have one of those as soon as I get off the plane."
Respect.
Listening to Bruno speak gives a full-bodied sense of his formative musical growth: singing and actual songwriting may have come late in his game, but the music was always in and about him. So the relationship between artist and instrument, where Bruno is concerned, seems more preternatural than classroom studied even though he is extremely classroom learned. That difference between a C chord and a C major 7 chord: mental candy.
"It took me so long to learn how to figure out everything. I had to learn how to play my instrument first. I had to learn how to play guitar, I had to learn how to play piano, and I had to learn about chords and harmony. I started playing when I was 7, so then I went all the way up through university and I was studying music the whole time: I wanted to learn all the stuff and what it meant. It's a bit like learning a language.

And then I moved to London and I had to learn how to write a song. So, I spent three or four years learning how to write a good song and when I finished doing that, I had to go learn how to record those songs. So, I spent another two years figuring out how to use microphones and produce and make beats and make synthesizers sound nice…and these are all entirely separate skills. I got to the age of about 27 and thought, okay cool: I learned how to play the music, I learned how to write music and I learned how to record the music."
And feeding himself on theory and technique gave his fluid artistry ample room to grow, so much so that being a musician is the only professional life that he's known. Somehow that tedious, but often necessary, catch of working a day job at an office or Starbucks while pursuing one's passion has managed to elude him.
"I'm actually kind of grateful for it because I feel like I've never had to arrange my brain in an organized way. I've let all of the non-creative bits shrivel away so I'm completely useless, a dysfunctional human being…but I can do music."
He swears he can make a mean latte, though.
"I've been studying music for 20 years to be able to do what I can do now and I'm really proud of it. The important thing to me is it doesn't matter how much you learn or how much you don't learn: art and creating art has nothing to do with what you learn. That all comes from the artist and being an artist and being an artist is not something that you can learn; being an artist is something you are born as."
Going forward in 2018, Bruno's ambitions are fairly modest and self-contained.
"I hope these shows go really well and I don't die in the process. I want to make a new album …that's really it. I want to make a new album and smash all these shows. Obviously, that's a really selfish answer …I wanna hang out with my family and friends and do loads of good things and stop eating so much meat."
And not die. Goals.
So the moral of the story is you can find Bruno Major at various points on tour in the UK, US and Canada HERE for evenings of elevated music that feel like warm chocolate and, when you do, heed this: as much of a fan as you are of Bruno, know that he is rather fond of you, as well.
"I don't know whether it's because my music is warm and honest – or at least that's what I'm trying to do with it – but the people that I've met at my shows have all been the most warm, honest people. I'm so happy about it and I'm so proud that those are the people that are listening and enjoying it and buying tickets to my shows."