The Echoplex | Los Angeles, CA | January 29, 2018 | Words & Photos: ZB Images |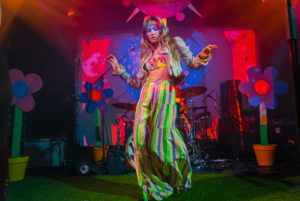 We can only hope that the rest of 2018 is as magical as Monday nights have been at the Echo and – because of high demand – the Echoplex. I think everyone who experiences her show would agree that Lauren Ruth Ward is some sort of goddess with an energy that is raw and transcendent and distinctly feminine, while her music is a mesmerizing balance of ferocity and fragility. Joining her onstage this week were songstress Madison Douglas, the Entire Universe (no wonder they needed the larger room. Ha!) and Georgi Kay. And with a lovely nod towards inclusivity, Caroline Blaike was by Lauren's side all night providing ASL translation and making the evening deaf accessible.
One thing is certain: whoever sees Lauren Ruth Ward becomes an instant fan and ambassador, and word is spreading like wildfire about this divine being gracing our presence. Four weeks ago all the Los Angeles' who's who of this wonderful music scene came out to see Lauren's premiere night at the Echo and, by week three, demand had grown so that the free residency had to be moved downstairs to the Echoplex where she – once again with her friends at Liquid Courage Light Show – literally created a sunny, happy and surreal garden right down to the Astro-turf and gigantic flowers for us all in order to enjoy her radiance.
Lauren Ruth Ward
Madison Douglas & The Entire Universe