Although the first few months of the calendar year tend to be slow on good tours, 2018 already has a plethora of tours well-worth marking on your calendar from a wide variety of artists from the hard-rocking to the indie-popping and singing/songwriting.
Here are 10 tours we're quite excited for in the first quarter of 2018.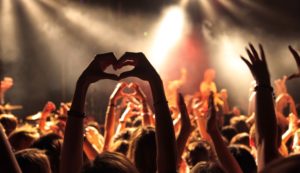 10. Dorothy
It wouldn't be hard to argue that it's been quite some time since we've had any particularly noteworthy heroes (or heroines) of hard rock, but LA rocker Dorothy (Dorothy Martin) churns out just the kind of soulful and sleazy blues rock that we've so admired from both the Sunset Strip and the soundtrack that got the Dazed and Confused kids through their teen years. Their debut album, ROCKISDEAD, dropped in 2016 and, ever since, they've been one of the only bands proving that – perhaps – it's not. Plus, they've just kicked off the Freedom Tour, their biggest headlining tour yet.

PS: One particularly unique aspect of Dorothy's Freedom Tour that we love is the aim to curate local artists as opening acts for each show. So if Dorothy is playing a show in your area and you think that you've got what it takes to share a stage, submit to be a Freedom Tour Opener.
9. Billie Eilish
Over the winter break electropop singer/songwriter Billie Eilish became old enough to drive …after selling out an entire US tour.  As a courtesy to fans who may have missed out, she scheduled a batch of dates through June in significantly larger venue – which are, also, already entirely sold out. Although yet to release a full-length, this sultry and soulful art pop chanteuse is beyond on her way to a crazy amazing career.
8. Lucy Rose
Close to a decade into her career and well into a successful career, with three albums under her belt and more than 60,000 Twitter "followers," English folk songstress Lucy Rose is somehow still playing bars and mini theatres in the US. It's surprising that her brilliance is yet to be recognized stateside on a larger scale, but you shouldn't bank on that lasting….
7. Tennis
After releasing both an LP and an EP last year on their very own label, wife-husband indie pop duo Tennis are planning to take some time off of their own work to produce projects for their peers. They just kicked off a batch of dates to give you one more chance to celebrate their latest sounds.
6. Lucius
Although Lucius may be best known as the quintessential postmodern, electro girl-group (and, more recently, Roger Waters' backup singers), they actually began as a minimalist folk duo, something that would be quite hard to deduce based on their past two albums. But this spring they're embarking on an acoustic tour, which will likely give you an insight to the origins of some of the chicest sounds to make your booty shake in recent years.
5. First Aid Kit
It's worth noting that, in a time when country music is being pulled in about a million different directions (the vast majority of which are "wrong" and designed to accommodate people who prefer to consume their music in football stadiums), the best country artists in the world are two modestly brilliant sisters from Sweden. The Sisters Söderberg are preparing to release their fourth full-length, Ruins, before embarking on a tour that has been largely sold out for months.  If you have tickets, be grateful that this might be your last chance to see them in a club setting.
4. Noel Gallagher's High Flying Birds
A lot of people surely enjoyed getting to see Oasis' singer, Liam Gallagher, taking on clubs for the first time in several decades last year. However, seeing the person who actually wrote the songs almost always proves to be far more satisfying. This spring Noel Gallagher is taking his High Flying Birds (a psychedelic rock-leaning outfit, likely partially inspired by his days hanging out with the Black Crowes) on tour behind their third album, Who Built the Moon?, and the sets are very likely to include at least a handful of Oasis classics.
3. Deer Tick
It's hard not to be charmed by an Americana garage band that is equally inspired by John Prine, Lou Reed, and the Replacements (oh, and they're a part-time Nirvana tribute act). Celebrating about a decade and a half and seven studio albums, the country-leaning rockers have been bringing nearly-three-hour sets of the best kind of music for drinking, crying, farting, and fighting that this generation has ever experienced and you can experience it all on their Twice Is Nice tour.
2. YACHT
Despite releasing a brilliantly controversial full-length in 2015 (I Thought the Future Would Be Cooler), it's been the better part of half a decade since synth-drenched, dance-punk extraordinaires YACHT have been on a proper tour so. Inspired equally by cultural theorists as they are the likes of Joy Division and X, they're likely the most academically enriching dance party you're ever likely to encounter and possibly the most impressive live spectacle you'll see in a bar this century. Strawberry Moon Tour, anyone?
1. Black Rebel Motorcycle Club
Of all of the neo-psychedelic shoegaze bands to emerge at the turn of the century, Los Angeles-by-way-of-San Francisco's Black Rebel Motorcycle Club were, by far, the most impressive and the ones we're happiest to still have kicking out their garage rock jams. The black leather jackets, the volcanic fog machines, the super soulfully grimy blues riffs… basically, everything about their live show just works. Their eighth full-length, Wrong Creatures, is now out as they kick off a relatively massive set of dates.