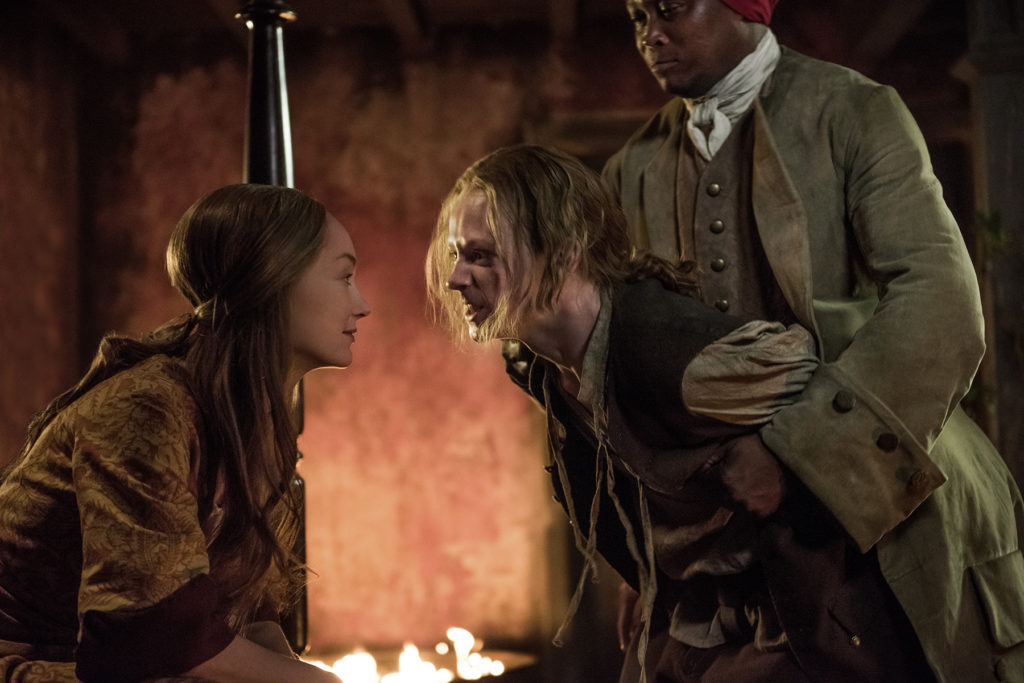 Outlander: Eye of the Storm | Season 3, Episode 13 | Rating: 8/11 |
Well that's it. The Outlander season three finale is here which means Droughtlander has officially begun. But before you panic, let's recap some highlights from season three starting with our thoughts on the finale.
Eye of the Storm starts with Claire being dropped off on Geillis' property, in search of Young Ian. Geillis hides Young Ian and accuses Claire of lying about her reasons for being on the island. Upon being presented with proof of Claire's story, Geillis discovers the 200 year old baby she is searching for is Claire's daughter.
Jamie has been taken into the custody of Captain Leonard, and then intercepted by Governor John Grey's officers. John explains that Captain Leonard has no claim without a warrant especially being on land (as the arrest did not occur at sea which would be Captain Leonard's territory). Jamie is indebted to John yet again.
Finding Young Ian, our search party departs for Scotland but gets caught up in a hurricane destroying their ship. What's left of the ship and it's crew winds up on the shores of Georgia, America. Claire & Jamie have survived and we meet a local family who tells us of other survivors down the shore. Who survived? You'll have to wait until season four for that. Or grab the next book: Drums in Autumn. Or read down below.
Right Place, Right Time
Eye of the Storm has a theme of being in the right place at the right time. This begins with Fergus alerting Lord John Grey of Jamie's arrest. With the arrest occurring on the island, Captain Leonard has no grounds to hold Jamie on as long as the island's Governor finds no good reason. Luckily Jamie and Captain Leonard were both still on the island when John sent his officers out to retrieve Jamie. Speaking of, the scene that followed, between Jamie, Leonard and John in the governor's office, was masterfully delivered.
Fast forward a bit and we find Jamie & Claire at a indigenous tribal ritual that is reminiscent of the ritual Claire observed at Craigh na Dun years before. When one of the tribal scouts finds Jamie & Claire lurking about, the ritual is interrupted in what appears will end violently for our happy couple. But hold on! What's this? Mr. Willoughby & Margaret Campbell happen to be in attendance and a friend to these people. Perfect timing. Margaret has been using her gift to tell these people's fortunes, and has a vision to share with Jamie & Claire which leads them to Abandawe.
Abandawe is the cave Geillis has taken Young Ian too, hoping to sacrifice Young Ian so she can travel safely through time in search of Brianna. Arriving before Geillis has harmed Young Ian, Jamie & Claire retrieve their nephew and end Geillis' life.
They say bad things come in threes, but also that the bad must come with the good. I'd say these are three great examples of just that. But can their luck continue?
America
The season ends after a hurricane destroys Jamie & Claire's passage home to Scotland, Claire has escaped death thanks to Jamie's heroic efforts and the shipwreck has found them on the shores of America. But what does this mean? It's not quite Lallybroch but our happy couple seems pleased to be in America. Will they attempt to return to Scotland? Or start a new life in America without the constant fear of Jamie's wanted past lurking about every corner? Did Young Ian, Fergus and Marsali survive?
It felt like this episode could've been 15 minutes longer (much like episode six, A. Malcolm, of this season). Fergus was such a small blip in the finale, and his friendship with Young Ian is as thick as blood. Would've been nice to see their reunion. Also to spend more time with Claire at the time portal, and possibly have her dissect the memories of Geillis' skull being found in the 1960s by her medical bestie (who happens to be another Abernathy, which was Geillis' latest husband's surname). Hmm.
Memories
What a season (pre-order it here)! From the print shop to the turtle soup scene, Ronald Moore & Diana Gabaldon did not disappoint us. We said goodbye to Frank, Geillis and many other friends. We reunited with others like Laoghaire and Fergus. We finally met treasured characters such as Mr. Willoughby and Willie. And now we wait for season four…
*WARNING: SEASON FOUR SPOILERS AHEAD*
What we can tell you is that season four has commenced filming. Season four will be adapted from Diana Gabaldon's Drums of Autumn and the show is expected to have a theme of "home" as Jamie & Claire continue to find a place to plant their feet. For the vast majority of season four, home will occur in North Carolina. Jamie will finally meet his daughter. And we hear there's a good chance we'll find Murtagh in the colonies.
César Domboy, Lauren Lyle, Richard Rankin, Sophie Skelton and John Bell will all be returning. And while we don't have a specific date yet, STARZ has mentioned Outlander will return in 2018. However, you won't have to wait that long to see a sneak peek because the first teaser trailer is already here: