The Shrine Expo Hall & Grounds | Los Angeles, CA | December 3, 2017 | Photo Credit: Amanda Bard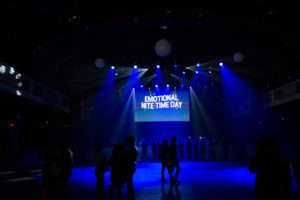 Emo Nite. Just the sound of it makes you flash back to a time when you were younger, things were simpler, and the music spoke to your soul. What began with some DJs playing tunes at the Short Stop back in 2014 has now grown into a massive event, this year held at the Shrine Expo Hall & Grounds in Los Angeles. As someone who is new to the whole Emo Nite scene, it was truly like hanging out with a bunch of old friends you never knew you had. There's something really amazing about being surrounded by a group of strangers all singing along to the same song with the same (or more) gusto as yourself. It's a connective feeling in times like these when we are so often divided by simple things. That's the one thing about music that makes it truly unique: it's a unifier. I love it. And now we're doing it in the daytime. Welcome to Emo Nite Day!
New Faces
One of the great things about Emo Nite/Emo Nite Day is it gives you the opportunity to check out new bands you might not have had the chance to see before. There were a few of those for me:
My particular day started with Arizona based band Doll Skin outside on the Millennia Stage. This all-girl band was a perfect fit for the event and finished their set with a cover of My Chemical Romances's "Helena" that was absolutely mind-blowing.  Would see them again if they made to back to SoCal.
I'd heard from a friend that Teenage Wrist opened up for one of my personal LA favorites, Dear Boy, so I made sure to check them out. Verdict: I enjoyed them much more live than I did when I listened to their recordings. I couldn't stay for their whole set though because I needed to check out William Beckett doing his DJ-thing.
Tiger's Jaw is a band I'm not really familiar with, but managed to check out. They have a bit of a dreamy vibe, but with enough of a rock edge to keep me interested. They were the perfect band to see right before Aaron Gillespie did his acoustic set. While not familiar with his stuff, either (I know, I know), I found his acoustic set to be really enjoyable. Sometimes it's nice to hear a band stripped down; I think it gave me a whole other appreciation for his music.
Old Faces
Say hello to Dales: the new project of Brian Dales, formerly of the Summer Set. To be honest, I didn't know he had a new band, only that the Summer Set was on indefinite hiatus. I loved their last release, Stories For Monday, but Dales was so much fun. I left partway through their set to check out an acoustic Finch, then was drawn back to Dales. I hopped on iTunes hoping to find an EP or something but only found a few singles released. Hurry up with an EP release, guys!
I was already familiar with a few bands on the list and one of them was I Don't Know How But They Found Me, who I saw open for Neon Trees at their Troubadour show earlier this year and I absolutely love their song about how no one likes the opening band. Sadly, I got to their set a little late due to a food break. I'm not sure if they played that song, but they are always enjoyable to watch.
Best Surprises
Machine Gun Kelly was right after and I didn't get the chance to see them at Kaaboo, but I saw video of their set. Honestly, I didn't care for the recorded music but – holy cow – their set was incredibly explosive. There's really no other word for it and now I have a whole new understanding of why this band has so much buzz. Except for a few select cases, I'm not into rap but this was a whole other ballgame which made it hard for me to leave to go see Escape the Fate and – honestly – I turned around and came right back in to watch the rest of Machine Gun Kelly's set. Safe to say that I was more impressed than I expected to be because their set was fun, had amazing energy, and was incredibly dynamic.
My night ended with an acoustic set by the Used. What was most interesting about this was that frontman Bert McCraken would preface the songs with some Shakespeare from A Midsummer Night's Dream or Hamlet. There might have been something else I didn't recognize but I thought that was incredibly unique. Also, hearing "I Caught Fire" acoustically was everything. When they finished, there was a string quartet that started playing "Sugar, We're Goin' Down" and then all of a sudden there was Demi Lovato on stage singing "Sorry Not Sorry." She only did the one song but dang, it was fun.
The DJs
I'm a longtime fan of The Academy Is… so the only DJ I made a point of seeing was William Beckett who has been doing a lot of DJ sets lately. I've seen footage of William DJing at Brooklyn's Emo Nite where he was very much in front man-mode which I love, but there was a logistical difference here. On the east coast Beckett was on stage with his setup while everyone else in the audience was on the floor. At Emo Nite in LA, they allowed a certain number of people on the stage, which is both good and bad. The good is you get to be really close to the DJ but that's only if you can make your way up there. The stage would often hit "capacity" and with people surrounding the DJ booth, the people in the crowd couldn't see what was going on. Also, I'm not sure how DJs felt about having people right up on them. I wouldn't like it, personally, but I'm not a DJ.
What made William's set so unique to me was a few things. First, he was the only one I saw who made it a point to interact with the whole audience. He would often leave the booth and hang out on the front area to get the whole crowd going and conduct a sing-a-long. He also seemed to play music that was more personal to him instead of the usual favorites that you can guarantee everyone would know. This was awesome because I would often hear the same songs over and over depending on if it was the DJ on the main stage or the DJ on the smaller stage in the other room. I'm all full up on a few of those songs for awhile.
The Atmosphere
By the end of the day, it was hard not to feel like you were part of a giant and amazing community. It really felt like you were at a giant house party with all your friends that you haven't met yet, enjoying music you all love, eating from yummy food trucks, and having an equally giant sing-a-long and dance party. That "era" of music was truly unique for a lot of us and I'm really glad they've been able to throw a massive good time to revive the spirit.
From DJs playing their favorite emo songs to a whole festival with bands of old like The Used doing an acoustic set, new bands like Dales or Machine Gun Kelly jamming out, or even band members like William Beckett of The Academy Is… spinning tunes, Emo Nite is truly a unique event.