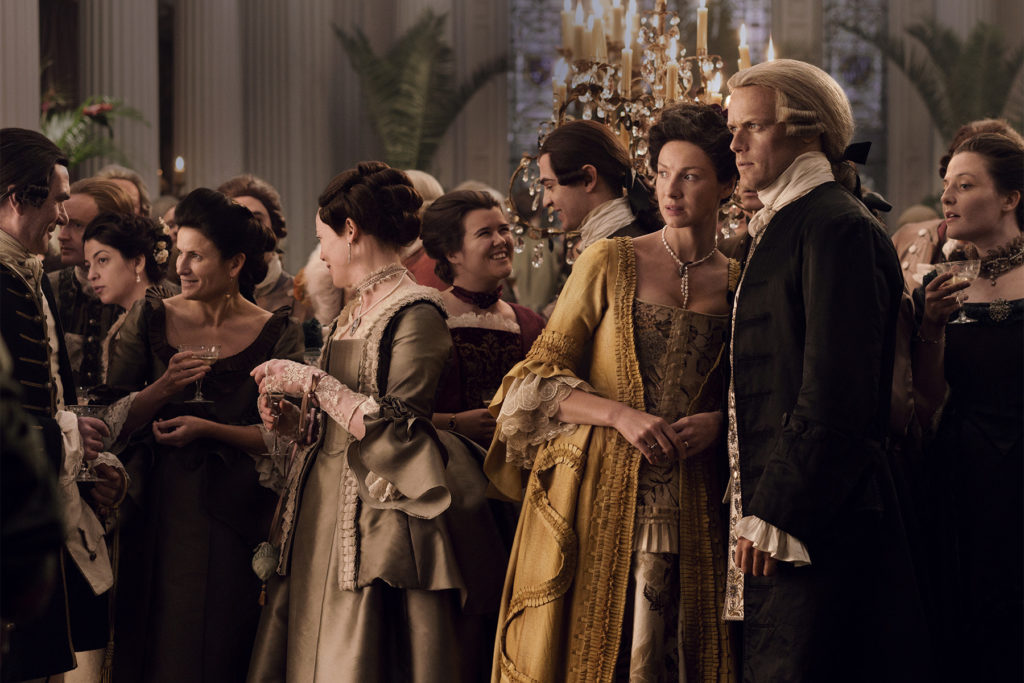 Outlander: The Bakra | Season 3, Episode 12 | Rating: 11/11 |
There's a lot to take in this week on Outlander. We're reunited with some beloved characters (some quite unexpected), plot twists we thought we evaded have returned, and all of it seems to come to head at the Governor's Ball.
The Bakra starts out by updating us on Young Ian, finally, who is now in Jamaica waiting with other prisoners before being brought to the Bakra. Bakra is a Jamaican word used to refer to a slave master. But this bakra isn't someone new, it's a very old friend we haven't seen since Season 1 when we thought she died: Geillis Duncan.
Moving forward, Claire & Jamie have also reached Jamaica and are in search of Young Ian. Upon arrival our favorite couple meet Kenneth McIver, Jared Fraser's overseer in Jamaica who promptly invites Jared's cousins (Jamie & Claire) to the Governor's Ball. Not having a reason to attend this ball, yet, Jamie & Claire get straight to business in search of Young Ian. First stop, the slave market which is an overwhelming experience for Claire (and as always expertly portrayed with small facial expressions by Caitriona Balfe). But it's there Jamie learns that the Governor's house has employed the recent slaves aboard the Bruja. To the ball they go!
Welcome Back
Do you feel like you need charts and graphs to keep up with all the story lines coming together? It's okay. Us too! Let's refresh.
The Bakra brings the return of Geillis Duncan, now Geillis Abernathy, who apparently escaped her own execution with the help of Dougal all those years back. Geillis was Claire's trusted friend during the witch trials in Scotland (see Season 1), whom Claire figured out was from another time period since she has the mark of a vaccine on her upper arm. Since then we've seen Geillis briefly in the 1960s where she meets Brianna. And now we find her in Jamaica having remarried a wealthy plantation owner.
Young Ian comes back to our screens as we get an update on what's happened to him since his kidnapping and where he is now. He's made it to Jamaica and Geillis is keeping him as her sex slave after finding out he's no longer a virgin and does not possess the third sapphire she is in search of.
But those aren't the only coincidental character returns, Lord John Grey (Jamie's former prison warden with romantic feelings for Jamie now turned stepfather/uncle to Willie, Jamie's son) is the Governor of Jamaica. My favorite quote of this episode actually comes from Lord John, "Well it certainly is a pleasure to meet the love that was his every heartbeat" he says to Claire in regards to Jamie's affection for her. "The love that was his every heartbeat," only a man pained by unrequited love could pour out such a poetic line – beautiful.
And finally, we meet the Campbell's again (the brother and sister Claire treats after reuniting with Jamie in Edinburgh earlier this season) who are in the service of their rich patron who brought them out to the West Indies, Geillis, and are now performing fortunes at the Governor's Ball. Got it? Good.
Governor's Ball
Everything is coming to a head as we reach the second to last episode of Season 3. That's right, only one more episode left before #Droughtlander returns! And it all seems to boil on this one event, the Governor's Ball. It's here that Claire & Jamie discover Lord John Grey is the Governor, that Geillis is not only alive but here on Jamaica, they run into the Campbell's and learn that Young Ian is being kept by Geillis (or that she at least knows his whereabouts and lied to Claire about it). Geillis also finds the third sapphire hanging from the Governor's jacket and urges Lord John to get his fortune read, giving Geillis the fortune reading she was after.
But the plot twists aren't the only part of this event that will send your heart racing. Pay attention to the silent 17 second exchange between Claire & Jamie 28 minutes into the episode. It's the look of happiness, of desire, of true love and it will melt even the blackest of hearts.
All this leading up to the final moments of the episode: Captain Leonard has made it to Jamaica, he's found Jamie and Jamie is now under arrest for murder and seditious libel. There's a lot to resolve in one final episode of this season, and our guess is it won't be done next week. Brace yourselves sassenachs, it's going to be a long droughtlander. May we suggest a reading of Drums in Autumn in the meantime?