Bowery Ballroom | New York, NY | November 21, 2017 | Words & Photos: Cortney Armitage |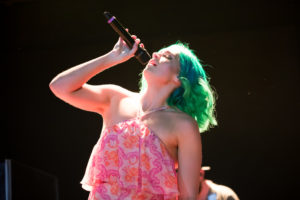 Racing to the venue after getting held up in Mexico City, Sheppard slid into Bowery Ballroom in NYC in the nick of time to play to die hard fans for whom it had been two years since the indie pop Aussies made it to their city. With a fantastic assist from ROMES, who are always crowd pleasers, Sheppard sounded amazing and pushed through the set in spite of the fact that Mexican authorities had taken George Sheppard's keyboard apart in a drug search and left the keyboard in a state more reminiscent of a rain stick. To make matters worse, George had just recovered from an illness and was stuck with a $5,000.00 medical bill from our US healthcare system. So please buy a t-shirt: they're on sale for the low, low price of $1000.00 each.
There is a saying that the crappier a tour begins, the better it ends. So say "Geronimo!" and here is to a happy ending for this tour!
Sheppard
Romes