On your mark…get set…GO!
It's a phrase of anticipation and prospect and – judging by their collective ready stances – Nate Weiner (vox/guitar), Emily Elkin (cello/vox), Branden Stroup (bass/vox/guitar) and Jacob Seldes (drums) of the Los Angeles Americana/folk foursome LA River Bend which formed in 2012, are looking forward to officially setting their music free on November 14th in the form of their debut EP, Run These Hills. All things in due time, kids.
Theirs is a quintessentially Californian sound where indie rock and pop mesh and swell with charming melodies, three-part harmonies and warm string arrangements all swirling amongst one another and, yes, you can get some of this goodness in your ears on Wednesday November 9th at their EP release show at
Hotel Cafe on Wednesday, November 9th presented by Badass Bands.
 Where the music comes from is often as interesting as the music, itself; fortunately Nate was kind enough to give is a tour of
Run These Hills
 (a title they've obviously taken literally) track by track…
"Run These Hills was recorded over the course of a few years at Branden's home studio, Boneshaker Recording Co., in Atwater Village. Sneaking in a recording session here and there with sporadic breaks in between, this EP has been a LONG time coming for us. As we started to record, I eventually wrote "Summer Wind" and "Mountain" which, as a band, we turned into the sound we are exploring now. Ultimately, we did want the songs to reflect how the band performed them live, with some additional instrumentation, but not anything that would be sorely missed when we played out. We also wanted to play all of the instruments ourselves and make it a true DIY recording process. Emily using a modulator on her cello instead of bringing in a violinist is a great example of that. Our head (and lone) engineer was Branden, who handled all of the tracking and mixing duties with next to no help. Val Garay (James Taylor, Linda Ronstadt, The Motels) was kind enough to let Branden finish the mixes at his studio, and we eventually took the tracks over to Eric Boulanger (Green Day, Imagine Dragons, Rufus Wainwright) at The Bakery for the mastering." ~ Nate Weiner
"SUMMER WIND"
"This was the first song I started to write actively thinking about the band & how we could all play it together. I already had a ton of nature themed lyrics & imagery in earlier tunes, so kept that train rollin. Definitely has some pop cheese in there as well, especially the chorus lyric "For looking at you the way I do…" Although we have pop elements in most of our songs, I hope it layers on like pop cheesy dust instead of full on pop Velveeta."
"MOUNTAIN"
"'The struggle is real,' 'Embrace the grind!,' 'Climb that Mountain!' All of that stuff, put into a lil surfy, vibed out, slightly self-deprecating rock tune. From Jacob's drum parts to Emily's cello layering, and of course the harmonies, the band really came together and we put a lot of awesomeness into this one. If nothing else, I'm really proud of what we did on this one. Plus, the band never knew it was a lyrical testament to our struggle to keep on truckin' on in the face of adversity. Well, they know all about that now."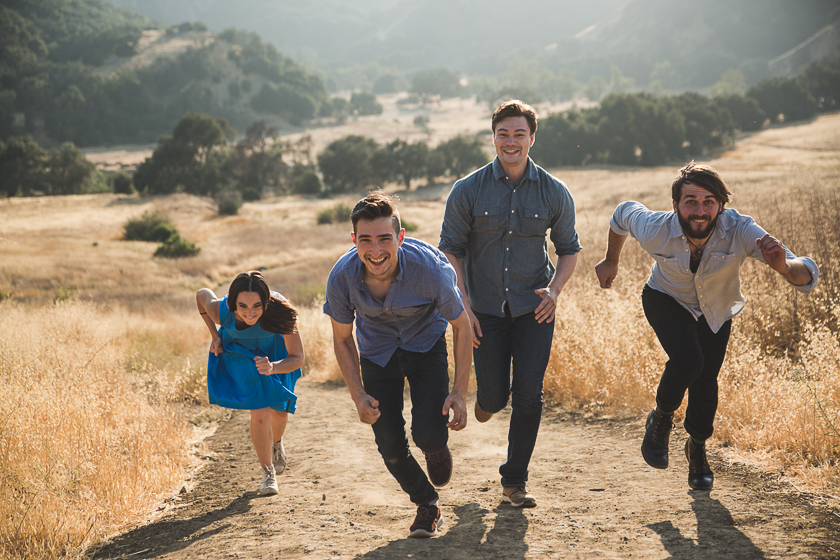 "HIGH OFF OF YOU"
"It's our Motown-inspired, pro-drug love song! Branden and Emily created sweet harmonies for this one; very naturally, too. I did write this one a long, long time ago. This might have been the first song I wrote on my Tele, opposed to writing with my Taylor. I had just seen Beck perform at the Hollywood Bowl with MGMT and Spoon and was all kinds of inspired. I just Googled it, that concert was September 2008, so it took me about a decade to get this song out."
"FIGHTING THE NIGHT"
"This is the tune that the band has to crack jokes on to lighten the mood in rehearsal when I start it up. Definitely not the feel good music you can usually expect from us. I wrote it after my dad passed and I was actively "fighting the night" on many a drunken occasion around that time. Tracking it was really fun though! We listened to the theme songs from True Detective seasons 1 and 2, some Ennio Morricone and the Red Dead Redemption soundtrack a lot for inspiration. I always envisioned it as a great desert night driving song, that may or may not end in a cactus car crash."
"DON'T GET LOST"
"I love this song because it came out way better than we were performing it at the time. I really didn't think it would come together so great! Emily killed singing the second verse (which was Branden's idea) and gave the song a much deeper narrative. Instead of one sad man's ramblings, it became a dialogue. I also originally wrote this one about a decade ago and, judging by all of the race horse references, was watching Seabiscuit a lot."