Outlander: A. Malcolm | Season 3, Episode 6 | Rating: 8.5/11 |
Finally, these two suspenseful weeks since Claire finally reunited with Jamie are behind us! Was it worth the wait?
A. Malcolm is the longest episode of Outlander yet and it's full of all the steamy, passionate love scenes between Claire & Jamie every Outlander fan adores. But sometimes you can have too much of a good thing. While this episode satisfied those of us who have been waiting for an episode as hot, erotic and engaging as season one's The Wedding, it would've packed more punch in its usual 60 minute format. That isn't to say we wouldn't enjoy another 75 minute Outlander episode in the future, but perhaps one with more advancing plot points.
With that said, brace yourselves for some of the most romantic dialogue you've ever heard. Jamie and Claire both address their aging insecurities: Jamie with his glasses and Claire admitting to having dyed her hair. But none of that matters as Jamie simply reassures Claire that "Time doesn't matter Sassenach. You'll always be beautiful to me." To which you'd think it couldn't get sweeter than that, but it does. After some catching up, our lovers decide to go to bed. Claire having disrobed is, once again, insecure, but this time about her body. She asks Jamie to say something as he stares speechless, and immediately we get "Christ, Claire, you're the most beautiful woman I've ever seen."
Jamie has always had a way with words though and we appreciate how respectful he is of women and especially Claire, and at some points schoolboy adorable. Asking if he can kiss her, and if she will go to bed with him. Also asking Claire to turn away when he changes his trousers, to which Claire has to remind him they are married.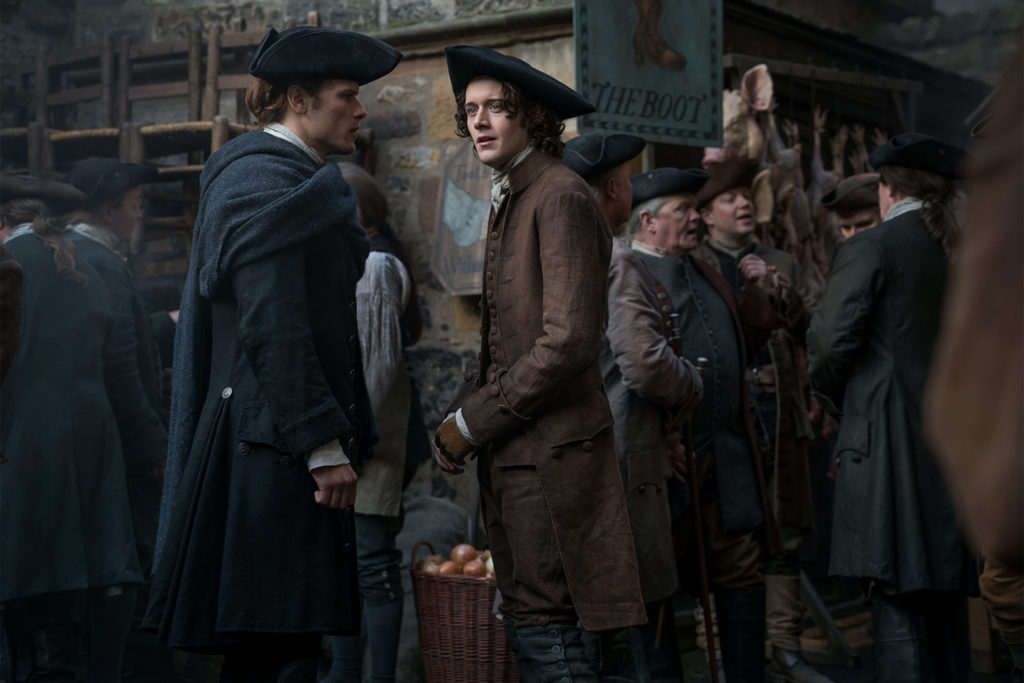 Eventually we do get out of the bedroom, which is located in a brothel by the way. Jamie is running a liquor smuggling business while maintaining the print shop. The Madame of this brothel is one of his best clients. Going about the day, we run into some of our beloved characters from the book. Fergus, now portrayed by french actor César Domboy, is all grown up and absolutely perfect in casting. Between reuniting with Fergus, and meeting Jamie's newest acquaintances (including Mr Willoughby, a Chinese exile living in Edinburgh, portrayed by New Zealand actor Gary Young) we learn just how good Claire is at coming up with stories on the fly; explaining where she's been this whole time. Then by chance, Claire even meets Young Ian, the son of Jamie's sister Jenny & her husband Ian Murray, portrayed by Scottish actor John Bell.
The big difference between The Wedding and A. Malcolm is the anticipation build-up. In A. Malcolm, we know Jamie & Claire are going to get it on at some point, whereas in The Wedding the foreplay getting-to-know-you dialogue was frustratingly captivating. Will it happen? When will it happen? Will they enjoy it? Then it happens and you couldn't take your eyes away. The most captivating moments of A. Malcolm were much more simple. I wasn't as anxious to get to the love-making, I was more interested to know how Claire and Jamie would handle the truth of each other's past 20 years apart. And it was in Sam Heughan & Caitriona Balfe's small facial expressions we found the genius of this episode.
One small irk, Jamie asks "What the devil?" when shown a photograph. But when Claire later states "My legs are like Jell-O," Jamie doesn't seem confused by the reference to a gelatin dessert invented in 1897 at all.  Yes, it's an easy reference to get the jist of, but still.
A. Malcolm ends with an intruder assaulting Claire in Jamie & her room at the brothel. Who was this man? Will Jamie arrive to save the day? Or will Claire handle him herself? Guess we're waiting another week to find out.