El Rey Theatre | Los Angeles, CA | October 12, 2017 | Photo Credit: Emery Becker |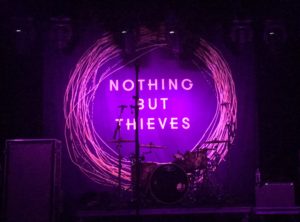 An hour and a half prior to the El Rey's doors opening and the line for this Nothing But Thieves/Missio combo was already winding around the Wilshire Blvd. corner. Of course, this didn't surprise us because we knew what we were dealing with: two bands who – while signed to the same RCA Records label – get vastly different, yet oddly similar, parties started and that difference/similarity makes for dynamic.
Fronted by one of the most the high brow contemporary rock voices (looking at you, Conor Mason) and touring their sharp sophomore album, Broken Machine, Nothing But Thieves are the rock show of intelligent bombastic proportions that weaves genre threads of R&B, hip hop and astute lyrics throughout the rock and have since they put their band shoes on. With two solid deluxe versions of albums-worth of material, the London-based five piece's catalogue already runs uncharacteristically deep, so they played the fan favorites past like "Trip Switch," "Graveyard Whistling," "Ban All The Music" and those future such as "Soda," "Particles," "I'm Not Made By Design" as well as acoustic guitar-covering Tom Petty's "Free Fallin'" with feeling enough to pop the G-string.
Besides encouraging large groups of people to simultaneously flip the bird, there's this thing that Matthew Brue and David Butler do as Missio: it's using their knack for delicious alternative electro beats beefed up by urban grooves and real-as-fuck lyrics to build a bridge between themselves, their fans and back. It's also why songs like "KDV," "Middle Fingers" and even the elegiac beauty of "Bottom Of The Deep Blue Sea" feel equal parts rock n roll and soul search. It's a good look on them and they do it exceedingly well. Cheers to RCA for pairing these two bands on the road together.
Nothing But Thieves
Missio