The Knitting Factory | Brooklyn, NY | October 11, 2017 | Photos & Words: Cortney Armitage |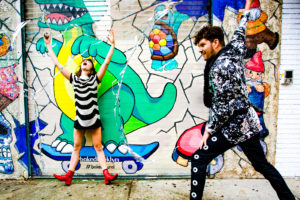 KOLARS touched down at The Knitting Factory with all the glitter and the flare that we expect, and it was exceptionally needed on the rainy Wednesday night. Lauren Brown pulled all the faces and NEVER missed a step as she fiercely mixed her tap dance into the beats. She is so special to watch; even as the sweat robbed her face of glitter, she only seemed become a tornado, gaining more and more energy. Even Rob Kolar (yes, they are a husband and wife musical team) will admit watching Lauren is sometimes the real show. But never let it be said that Rob is second fiddle; he is as charismatic as all fuck and he works it just as hard. Leaping and stretching his long limbs across the stage while belting out the songs and slaying on the guitar, he is just as rock 'n' roll.
Rob and Lauren's candy shop of showmanship, high energy and vibrant tunes also brought a special dark sparkle with them. New York native, Fiona Silver reminded NYC that she was back and better then ever, as her last stop on her three week tour came to a close. Debuting her new video for "Smoking Gun," her homecoming was ever so sweet.
KOLARS
Fiona Silver