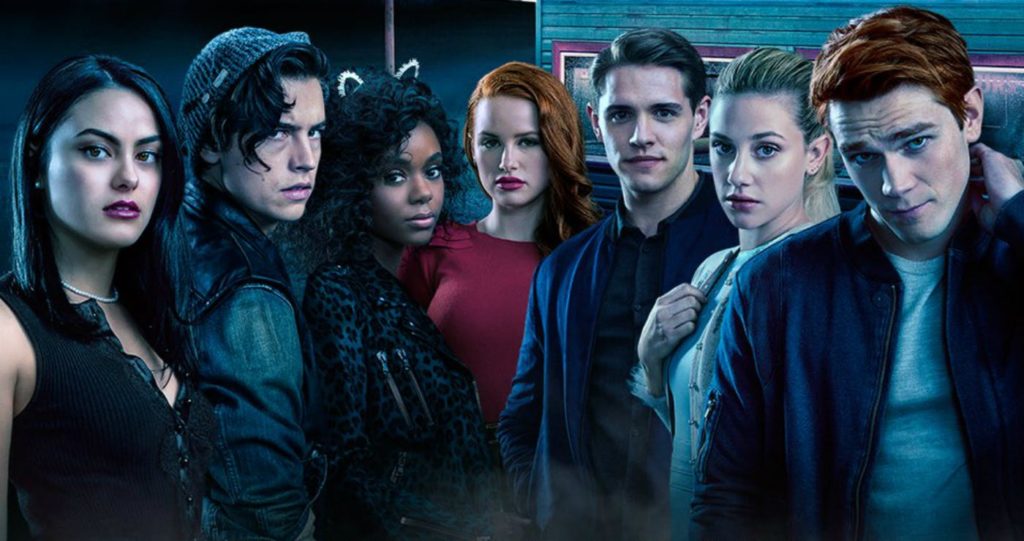 Okay, so you have all the deets on season 2 of
Riverdale
, but are you needing more of Archie and the gang in your life? How about some additional fun stuff that we found out at San Diego Comic Con? If you just nodded, "Yes, please," then check below for some extra goodies from cast members Cole Sprouse, Ashleigh Murray,
KJ Alpa,
Hayley Law, Sarah Habel 
and Madelaine Petsch. You're welcome.
Music
Q: Is there a song that you wish was in the show?
Cole: I wish "Creep" from Radiohead was playing over that narration of episode 10 where I'm like, "I'm a weirdo." That for me, like subtly on some sort of disc in the background, that would've been nice.
Q: What's your character's theme song?
Madelaine: I get that question a lot. All of the audition process I listened to the song "Monsters" by Ruelle and that kind of has always been what I think about when I think of Cheryl. It's all about monsters all around. And that's kind of I think how she sees the world.

Ashleigh: I actually haven't been asked that question and I…

Madelaine: Something by Beyonce. Or something like really powerful and…

Ashleigh: Yeah. It would have to be something really groundbreaking and powerful. Just like a really kind of movement sort of song, you know what I mean? Maybe even, actually I feel like "Rise Up" by Andra Day is more for you [Madelaine] than it is for me. I don't know, I'm not even sure, I can't even give you an answer for that. I don't want to just like throw a song out there.
Comics-to-Television
Q: Is there anything from the comics you want to see happen in the show?
Ashleigh: That's tough, there's so many things from the comics.

Madelaine: I'd love to see Predator come to town.

Ashleigh: I would be all about Predator, but I'm not going in the- no.

Madelaine: I mean, that's not gonna happen, but I'm saying, it would be cool if it did.

Ashleigh: That would be great. As long as we don't get zombies. I have a very strong rational fear as Ashleigh of zombies and…

Madelaine: How about just nothing supernatural?

Ashleigh: Yeah.

Madelaine: Like, I don't want to see any witches or crazy, ok well maybe…there might be a witch but – other than that – I don't want to see any ghoulies or vampires or werewolves. Oh my god. We have so much interaction that…

Ashleigh: I know! There's so much going on already that to think about adding something else, I'm not ready for it yet.

Madelaine: Nope. I need to just…

Ashleigh: We have a lot in our pot for season 2.

Madelaine: Just let it live for a little bit.
The Fans
Q: Do fans ever influence anything?
Cole: Going into season 2 and now… because by the time we finished season 1, the first episode had aired. So, we weren't even worried about audience response. And now, it's something to keep in the back of our mind, but as long as we keep to making the work and not letting it inform….

KJ: Also because we are going to be shooting while the episodes were just shot or aired so it's going to be interesting.

Sarah: Oh, oh. One thing that the fans did affect in season 1 was Clifford Blossom's wig. 'Cause, it didn't look right – all props to our hair department – but it did not look good. And so, we were concerned about it. 'Cause what happened was, his hair was dyed in the pilot but then he had a bad reaction to the hair dye so he couldn't keep dyeing it, so then we had to do the wig. And then we – instead what was a great lesson for me – was we, like, leaned into it. So that's where the line from Hermione saying, "Clifford Blossom, that wig wearing monster." So then we were like, it's actually more interesting if he wears a wig. Like, that's sort of strange and Lynchian…

Hayley: I loved when he got busted in his wig room.

Sarah: So in that way we definitely listened to the fans because we are fans, too, so we watch it in that same way. And then, what's great is everybody has their favorite character(s) so you have plenty of voices fighting for everyone as the show develops.
Season 2 of Riverdale is officially underway and Wednesday nights on The CW network is where you'll find it. Also, if you're not hip to what's going on over on our High Voltage YouTube page, here's a sample: that time that we spent 60 seconds with Camila Mendes, KJ Aka and Lili Reinhart. Check out our other Riverdale interviews and more and SUBSCRIBE to our channel!