The Troubadour
| Los Angeles, CA | September 30, 2017 |
Photo Credit: Emery Becker
|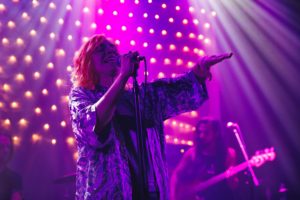 The 10th anniversary of your seminal debut album is as good a reason as any for a band to decide to embark upon a reunion tour, don't you think? Hell, yes, we do, especially when the album and band in question are
Ordinary Riches
by Company of Thieves.
A packed Troubadour was the scene of the final reunion tour show as Company of Thieves blew all in the room away by delivering an electric and powerful performance of many of their much loved songs from their albums Ordinary Riches and Running From A Gamble plus their latest single, "Treasure." With a powerhouse physical and vocal presence, front woman Genevieve owned the audience while, simultaneously, the audience owned her. The giving and the taking of love from the stage and back; it was as beautifully and joyously transactional as any show that you've ever seen: this band hasn't lost a step. Plus, not just anyone can rock leather overalls the way that she can.
Towards the end of the evening and much to the joy of the fans, Genevieve announced that the band is, indeed, working on new music. With that in mind, hopefully it won't be too long until the next Company of Thieves show.
Setlist: "Intro"/"Modern Waste"/"Pressure"/"Flowers"/"Old Letters"/"Queen Of Hearts"/'Syrup"/"Death Of Communication"/"Treasure"/"Gorgeous/Grotesque"/"Won't Go Quietly"/"Talluluah"/"Oscar Wilde"