It's approaching that time of year again: the leaves will turn, the days will get shorter and concert calendars will become stacked with so many show that we'll all wish we could clone ourselves in order to be at three venues simultaneously on any given night.
The Fall tour season is upon us, folks.
Come October, doing their part by hitting the road in order to entertain the masses is Jordan Topf, Corey Mullee, Alex Pitta who, as Los Angeles garage rock trio Mainland, are no strangers to the road having toured nationwide and opened for the likes of Catfish and the Bottlemen, Atlas Genius and more. But along with all things things pumpkin spice, a fall (and winter) tour can also bring some chilly weather, so being the tour pros that they are, Jordan clued us in on what it takes to keep it together when the temperatures dip below what we in Los Angeles deem acceptable because #tourhappens…
Top 5 Tips For Staying Warm During A Fall/Winter Tour
1. Make sure you hit the Army Navy store before you hit the road. They've always got the best parkas for snow days. When we were on tour last winter, I stopped by the spot next to Katz' Deli in lower Manhattan and bought thermal everything and my favorite goose down parka of all time.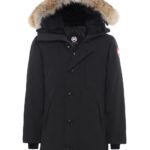 2. Doc Martens for the cold, sleet, rain, snow, etc. They say Docs are fire proof, water proof, grease proof. What aren't these boots capable of?!
3. Soup is essential. The guys make fun of me a lot for this one, but a tour essential on fall/winter tours is making a frequent stop whenever possible to the nearest Panera Bread when you're in the middle of nowhere. As a vocalist, it's great to eat any non-dairy soups to soothe the ole vocal cords.
4. Long Johns. No explanation necessary.
5. Any herbal remedies to help you not get sick. My mom turned me onto Chinese herbs like Gan Mao Ling, Yin Ciao, or even Counter Attack that are great for the immune system. Because let's be real: you don't ever wanna be hacking phlegm before the big chorus hits!
TOUR DATES:
10/23 Phoenix, AZ – The Rebel Lounge *
10/24 San Diego, CA – Soda Bar *
10/26 San Francisco, CA – Cafe du Nord *
10/29 Anaheim, CA – The Parish House @ HOB *
11/5 Columbus OH – Big Room Bar **
11/7 Nashville TN – The End **
11/8 Atlanta GA – Aisle 5 **
11/9 Tampa FL – The Crowbar **
11/10 Orlando FL – Backbooth **
11/11 Chapel Hill NC – Local 506 **
11/12 Baltimore MD – Metro Gallery **
11/14 Washington, DC – Songbyrd **
11/15 New York NY – Mercury Lounge **
11/16 Cambridge MA – Middle East Upstairs **
11/17 Philadelphia PA – The Voltage Lounge **
11/18 Buffalo NY – Studio at Waiting Room **
11/19 Pittsburgh, PA – Funhouse **
*with The Score
**with The Wrecks