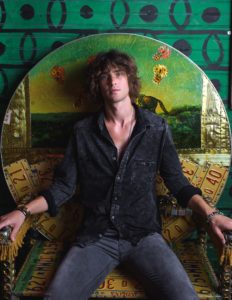 There is much to appreciate about Cobi, the least of which is his grasp of symbolism.
"Songs From the Ashes (Pt. 1) is an introduction to the album to come. As a symbol of purification, ash is the essence that remains when all else burns away." he explains.
As introductions go, we've heard far, far worse, because – as introductions go – the three-song quick hit of Songs From the Ashes (Pt. 1) is efficient and effective. So much soulful and blues flavor bolsters the Minnesota native's innate folk (yeah, that word) singer songwriter tendencies that Cobi easily cuts through the noise: case in point, how he exploded hearts and minds in 2016 with the extraordinary dark poignancy of his single, "Don't You Cry For Me." From fronting alt rock outfit Gentleman Hall to being a featured vocalist during British trance trio Above & Beyond's 2016 world tour, Cobi (signed to 300 Entertainment) is in full bloom as a solo artist as well his way with storytelling of the heart on full display.
"Mainstream media pushes so many things in our faces that are damaging to our being. We accept it as the norm but it only leaves us feeling more empty. 'Underneath' is a warning to myself and anyone listening… don't let those forces pull you down.

"'Nobody Opened the Door' is about a love that you are eventually forced to let go of. Despite your best efforts, the winds pull you apart and you're forced to go down your own path. As you go though life, you remember the pain that love left you with, but you also realize that you wouldn't be who you are without it.

'Goddess' is about being in love and knowing that it's not meant to last forever. Knowing from the beginning that it will end in flames adds to the infatuation."