"It's all happening in season 2. I'll tell you that much," says Riverdale series star KJ Apa aka: Archie Andrews.
If you're wondering what more could possibly happen in Riverdale after that high-speed ride that was season 1, well, we've got some news for you! For those of you that need a season 1 refresher course, let's go over some details: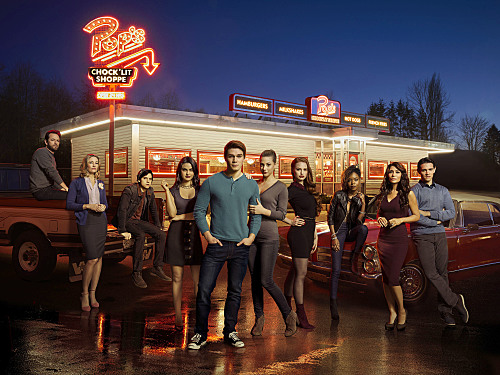 Daddy Blossom's business wasn't actually in maple syrup, it was drugs! Also, if rubbing elbows with the Southside Serpents while being a drug lord wasn't enough, Daddy Blossom also killed our dear, sweet Jason and subsequently hung himself.
The Queen of Cold, Cheryl Blossom, decided the best thing to do after attempting suicide in the freezing river (and, subsequently, being saved by Archie) was to burn down her house with both her and mommy inside.
Speaking of the Blossoms, it turns out that Polly and Jason were actually something like second cousins! Oh dear. Also, Veronica Lodge helped bring about the return of her father, Hiram Lodge, who is a morally ambiguous entity from all we know. Plus, it seems she's officially taken Archie off the market.
Betty Cooper battled some of her inner demons and has opted for the misunderstood outlier of the group, Jughead Jones, as her boyfriend.
Speaking of Jughead, let's not forget that he's attending Southside High and seems to be fitting right in with these new people. He even put on the jacket!
Poor Kevin was used as an informant by a Serpent who hopped on a bus, presumably never to be seen again. Oh, heartbreak.
The Pussycat Dolls finally ironed out their own drama as a band…or did they?
And let's not forget that Archie's dad, Fred Andrews, was shot at Pop's!
Whew. So, what more could possibly happen in season 2 after all that? Oh, there is a fresh season full of drama for us to sink our teeth into. But let's do some housekeeping first…
Archie Andrews (KJ Apa):
We do get to find out the fate of Archie's dad, Fred Andrews, by the end of the first episode, so it won't be some long, drawn out affair to anguish over. Thank goodness for small favors. However, according to KJ, whatever happens with Fred one way or the other is "…going to affect Archie forever and you can kinda see the flip side to his character." Well, his father was shot right in front of him. Does this mean we will see some form of dark Archie? That remains to be seen, but it's clear that this major life event will forever change him, plus he may no longer be the guy Veronica thought she was getting involved with.
Cheryl Blossom (Madelaine Petsch):
She's finally out from under the thumb of her parents and according to Madelaine, "She's making a conscious decision to take control of her life and to be happier in her right. Which doesn't necessarily mean that she's going to be happier with other people involved, just that she's going to be happier with her own life." So, does this mean that Cheryl is going to suddenly become a bit more warm and fuzzy? Actually, no. Don't forget she just went through a few major traumas of her own and needs to find a way to cope with everything that has happened to her and her family. So what, exactly, is Cheryl doing? "She's getting meaner and colder to people around her because it's the only way that she can feel protected. So, to the outside world she will be a lot meaner but in her head, she's just doing what she has to do to cope." says Madelaine. Totally the Cheryl way to handle things, right?
So, now that we have some of the major housekeeping out of the way, what else can we expect from Riverdale in season 2? A lot.
Let's not forget that for Veronica Lodge (Camila Mendes), daddy's coming home. Is Hiram Lodge going to find out about the tryst between Fred and Veronica's mom, Hermione? That remains to be seen, but it will surely shake up the family dynamic. We've seen such a strong bond between mother and daughter since Hiram has been off in jail, but now we find a shift in the dynamic between Hermione and Veronica. According to  Camila, "Her relationship with her mother has changed because Hiram now has changed the way her mother acts around Veronica. She's colder, she's secretive and not sharing anything." And speaking of Hiram, we don't really know if he's reformed or not and neither does Veronica. In fact, Camila thinks "This is the moment she's has been waiting for, ever since she moved to Riverdale." And how does Veronica feel now that the big moment has arrived? "I think she's terrified and doesn't really know where she stands with him." says Camila. "There's so many mixed feelings; either she is going to be daddy's little girl and want to impress him and show him that she's a Lodge after all and that she can handle tough situations, or she's going to be really hard on him and kind of like, try to keep tabs on him and make sure he's sticking to a good path and not going that corrupt route. So, it's layered."
That's a lot for Veronica to take on, especially with having to introduce daddy to her new boyfriend. If you caught any one of the numerous YouTube videos of Riverdale's Comic Con panel, you know that it does not go especially well. If that wasn't enough drama, Veronica has an old boyfriend from New York who is coming for a visit in Riverdale. Oh dear.
As for our sweet Betty Cooper (Lili Reinhart), she's got a lot of tests coming up in season 2 and we aren't talking about the academic kind. Between Jughead being at a new school and physically away from her and an upcoming conflict with Veronica, she's got a lot on her plate. Episode five is where we brace ourselves for this upcoming conflict between Betty and Veronica. "When Betty and Veronica do have a conflict with one another and they aren't necessarily on the same team anymore, it makes you realize how much you do love these girls together as a duo and when something comes in between that, you're heartbroken" says Lili. Adds Camila, "It's heartbreaking watching that conflict unfold because it's coming from a place of love and protection and so it hurts. The audience will be hurt watching it." Well, at least we know they still have good intentions between them! It's nice to know that they will always have their friendship to fall back on and stick with each other through the dark and twisty stuff. as well. And while we won't necessarily be seeing more Dark Betty come out, we will be seeing a different side to her. "There becomes a broken side of her that you see. I mean, Betty is kind of at the core of the mystery in season 2 for the first half of the season," says Lili. Another mystery?!? How many secrets can one town hold? But we digress…
Lili added, "She's thrown into something that she never imagined being thrown into and her circumstances break her in a way. So you see this vulnerable side to Betty that you haven't seen before and it's not as much of a darkness as it is just a broken and hopelessness." Well, hopefully Jughead can be there for Betty in her time of need, however, for of all you Archie/Betty diehards out there, while we don't see them get together as it's still a platonic friendship, we do get to see more moments of friendship between them that were missed in season 1. That should warm your hearts a bit.
Now let's talk about those Pussycat Dolls. In case you weren't aware, they did a brief set during Comic Con at a party but we can expect to see a lot more of them in season 2. For example, Asha Bromfield aka Melody Valentine shared that in episode two, "There's the dopest song and I'm not being dramatic. It's pretty iconic and everybody knows it. So, I'm excited about that." She also teased that there will be a lot more music throughout the season. As for the main Pussycat, Josie, we can expect a lot more on her plate as well. She might unintentionally cause some problems within the group when she starts to pursue her music career more, but she's adding another notch to her belt: cheerleader. According to Ashleigh Murray, "She's joining the River Vixens which is great, you're going to get the chance to really see the dynamic of Josie and Cheryl's friendship." In addition to becoming a River Vixen, she's going to have more time with the "core four" so, needless to say, we will have a lot more of Josie in our lives.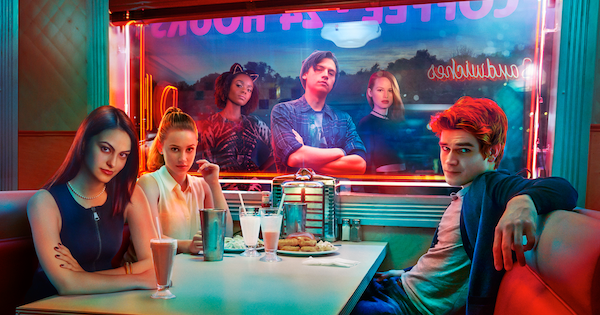 With all this awesome girl power going on, it seems prudent to add in this little gem from executive producer Sarah Schechter: "I think the fact that there were so many strong women that have different points of views, different ways to approach being a girl in 2017, that was really exciting." It's so refreshing to have a show with strong women who may not agree all the time, but don't spend an entire season consumed with cliché cat fighting and tearing one other down. We might not like the other women in our lives, but we learn to deal with them and work towards a common goal. Perhaps that's one reason why
Riverdale
has affected so many different people. It's not just the nostalgia of the comics combined with an updated layover, but the fact these that characters bring home something real to all of us. Maybe you're a Cheryl who is hurting and only knows how to shut people out to protect yourself or an innocent Betty with a dark and twisty side no one knows about. Could you be a Veronica who was escaping her past in a different city with a different way of life? Perhaps you're an Archie and are torn between something comfortable you enjoy and a new passion? How about Jughead: the misunderstood and the weirdo of a group? No matter what, they all manage to exist together within one universe and they all seem to be doing just fine, despite all the drama.
Season 2 of Riverdale is scheduled to debut on October 11, 2017 so fasten your seat belts: it's going to be a bumpy ride.