Who is Ray Little? She's the side of her artistic self that Lauren Little (former frontwoman of Los Angeles rock band, Queen Caveat) wants to introduce the world to – wants to introduce you to.
Queen Caveat hit the ground running in 2011 with their debut EP Emptor and a dynamic sound that translated into intense, adrenalin-filled live shows and its fair share of fans. Success and struggles came during their pursuit to become a LA success story, as is the norm in life, but so is change and eventually Queen Caveat was no more. While that band vision may have faltered, Lauren's artistic one has not and gradually her eyes focused – more inward that out – on the art that her heart wanted to created and the person who would create it.
That person is Ray Little.
On Wednesday January 11th Ray Little, along with Aja Volkman (Nico Vega) and GROZ, will play the Echo in Los Angeles. Consider this your official invitation to allow Ray Little to introduce herself: Her true self to you.
In the meantime, let this conversation be a place to start…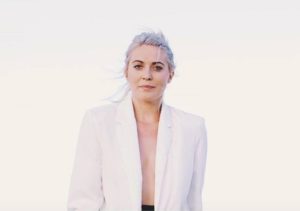 High Voltage: The past year/year and a half for you has been marked with changes, personal and professional. Not the least of which being making the transition from fronting a band to being a solo artist. How does the Lauren today differ from Lauren of two years ago?
Lauren Little: There's a fire I felt in Queen Caveat. It was such a tight, white hot energy. Over time that heat just kind of spread out and cooled a little. I became more focused and felt more feelings. I wanted to say what I meant and take more time. There was this hard but exhilarating transition of my interests. I started to really enjoy the recording and studio process more than I ever had before. I was on a journey for independence. It made more sense to me to be responsible completely for who I was and how I was represented. The two or three years it took to fully identify with myself were years spent growing and learning from my peers. I've paired up with people that are like parts missing from me. I feel whole working with these individuals. Nothing is really solo but my collaborators are into my vision and I couldn't do anything without them. But mostly, I feel clean and honest now and unafraid of standing behind the music I make.
HV: For those who may not be in the know, who is "Ray Little" and is there any difference between her and Lauren Little?
Lauren: "Ray Little" is my family's music name. My father Michael Ray Little, is a human kingdom of music and magic. All of his children and friends and family are affected positively by the nature of him. He's my idol and has created an inspiring, invisible place that lives within all of us. It's such a sacred place to me, and only truth prevails in that mind set. So Ray Little represents truth in art. I took that name knowing I had HUGE shoes to fill and I would have to make sure I was doing what I thought was my purest art under that pseudonym. If I had to pose a simple difference, Lauren learns and Ray makes it.
HV: Your dad is quite a guy and gives great hugs. Now your upcoming show at the Echo on January 11th has a lineup of wonderfully unique women: yourself, Aja Volkman and GROZ, who also performed at your Bootleg show. If you believe the theory that like attracts like, it's especially important to surround yourself with, not just talented women, but also strong women. Why did you three decide to assemble for this show?
Lauren: I agree completely with that theory! These girls are everything, they are my friends, muses, teachers, allies…the list goes on. GROZ has become one of my very good friends and we've worked on a lot of music together. We like to experiment with our songs and working with someone who is such a natural singer and songwriter has been incredible for my growth… not to mention she is the sweetest person alive. GROZ will be opening the night but her and her pianist Taryn Lounsbury will also be my band, too. In addition to them, I have Dan Marcellus on drums and he's amazing, to say the least. Aja Volkman has been my musical female hero for 9 years. I have had the pleasure of seeing her live many times in Nico Vega, a few times actually sharing the stage with her. Now to have her on the bill with me playing her solo stuff, too, is beyond words. I'm elated to the point that I have to pinch myself. It's going to be a wonderful night and there is a very special surprise guest(s) during the show that adds to my points about these women!
HV: You've called out Aja as a strong force for you many times over the years and so glad to say that I've had the pleasure of seeing some of those shared stage moments with both of you. Now GROZ, Taryn Lounsbury, Dan Marcellus: how did they become part of the program?
Lauren: Well, we just became friends and collaborated. I spent a long time searching for musical soul-mates, so as soon as I met these people I knew instantly.
HV: How are the songs that you've written and are writing as Ray Little different from those of Queen Caveat?
Lauren: I'm writing about life experience in a way that is more personal. I'm not thinking about an entire of band of dudes who I have nothing in common with. The music is more tailored around my voice and I'm largely involved in the production process. It should always be that way. Making music is so much for fun when you release the parameters of one certain writing style. I'll hum out a counter melody line on the chorus line and Dan will play it out on vibraphone. Then he runs it though the computer and we change it and make it into a new sound. I'm still talking about heartbreaks haha but also fires downtown and existential life crisis and I'm writing a lot of music about other people. I love people and I love their stories. I listen more, I write what I hear and what feels real. There is no method…you just wait for it.
HV: Being a woman in the music business – any business, actually – has its own special set of challenges such as ensuring your voice and opinions are heard or being in full control of your art. Do you feel that you've had to work harder to be heard?
Lauren: Yes, absolutely, I had to work harder to be heard but now I just work smarter. I say "No" and I don't work with sexist people. They are easy to spot and people are often doling out like tips for women to survive and thrive in the industry. How about this? Ladies, realize your potential on your own, don't compromise EVER. There is a difference between compromising and collaborating. The most important thing to remember is there are people, men and women, who are badass right here in the industry that ARE NOT backwards, sexists individuals. They want to help and be part of your vision. You can find them by saying "NO" to the wrong people. Follow your instincts when it comes to other people and, yes, you can have tact and still avoid working with these leeches. Here's the cheese but seriously, follow your heart! Geez, Trina, why don't you ask me how I really feel!
HV: Ha! These are some strange times we're living in. Do you remember how it felt the day when you, originally from Oklahoma, officially moved to Los Angeles?
Lauren: It felt like adult Disneyland.
HV: And Disneyland is supposed to be fun. You've been kicking around LA for a while now; you know the saying "The struggle is real"? How much have those damned four words applied to you?
Lauren: You know those sayings that are worn out? Here's mine: The struggle is real and, damn, it is worth it! I'd trade not one interaction or moment of growth or heartbreak in this town. But, yeah, it's been some shitty times…lots to write about. I think it should be mandatory for everyone to follow their dreams.
HV: Cheers to that. I'm curious: Do you think that you chose music or that music chose you?
Lauren: I think we ran to each other in slow motion on a beach. I think music chose everyone. I mean, I pursued it as a career. Passion doesn't do all the work…passion is a lazy, one trick pony and you have to do everything else…soooo maybe I chose it.
HV: I'm actually imagining that slow motion sequence in my head right now…very romantic. At your last show, a bottle of wine wound up being your co-star. Should we expect full catering service at Wednesday's show?
Lauren: Aw Gavi! Yes, that bottle was in memory of the late Jason Gaviti. He embodied love that can never be put into words…maybe I should pass around burritos for Bowie this time?
HV: Pretty sure that no one in Los Angeles would say "No" to a Bowie burrito. Last but hardly least, tell me three things that you love about Los Angeles.
Lauren: 1) That Trina Dharma lives there. 2) The art, the music, the food, the views, the neon glow paint ball pit parties. 3) I love LA because it's my home. I planted the first seed here for my family and my tree grows like my love grows for the greatest city on earth.