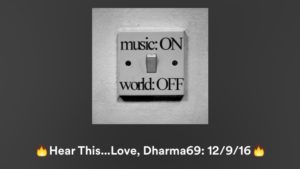 With a mere three weeks left in the year, I only have 39 more attempts (52 counting this past Friday) to hook you on a song, artist or band. I accept this challenge and put forth my updated Spotify 
HEAR THIS
playlist: 13 songs added every Friday for your music discovery pleasure.
In addition to the four bits of quality listed below, it's been a minute so we welcome the return of the Los Angeles outfit Milo Greene, Ryan Adams wants to know how you feel about him, some soulful elusion from The Skins, Frank Carter & the Rattlesnakes toss in some punk that sounds as if it made out with Arctic Monkeys, MisterWives, Rafferty and more join my HEAR THIS club. So listen in, follow my playlist and share it your BFF.
Portugal. The Man – "Noise Pollution (Version A, Vocal Up Mix 1.3)"
In this new-fangled world of post-truthiness, noise pollution sounds about right. So enter Portugal. The Man aka masters of musical magic who never cease to conjure some beautifully weird shit. New album? Gloomin + Doomin produced by the Beastie Boys own Mike D due out sometime next year. As for the here and now, open up Google Translate for the saucy French bits and dig all that noise pollution.
Train – "Working Girl"
Granted, the first time I heard this song I automatically defaulted to the euphemism for 'prostitute' – sorry about that – only to realize that Pat Monahan had penned an ode to a woman who's handling her business like a boss and has in kind expectations of her man. I can get behind that. It's a cool tune from their upcoming album, a girl a bottle a boat, due out January 27, 2017. Til then, let me get the door for ya.
A R I Z O N A – "Oceans Away"
New Jersey trio A R I Z O N A return with another offering in the vein of lush emotional deliverance with "Oceans Away" and it's a subtle but potent thing. Full of feels.
Allan Rayman – "25.22"
If nothing else, Allan Rayman keeps you on your listening toes. To the outside world, he – himself – is elusive but the music is right there for you, scratching at your skin to get beneath. It's all shadowy narratives on an edge and innate grooves that tell his best and worst secrets. Volley between the single "25.22" and "27" (from his full album, Hotel Allan) and prepare to be intrigued, if not a little mind fucked.
Til next time…love, @dharma69.