Kristine Flaherty and I jumped off our conversation by talking about another band: Paper Route. There are scant degrees of separation and we connect the dots. Last year Flaherty aka K.Flay created a mix tape for our Winter 2015 print issue with the theme, "Songs Containing Water" which included songs like "Waterfalls" by TLC, "Waters of Nazareth" by Justice and "Water Fountain" by Santigold. The aquatic affinity makes sense: she's a Cancerian. But also featured in that same issue was Paper Route whose front man, JT Daly, had a hand in producing her brand new Crush Me EP.
Flaherty is entering a new musical stage of being which I casually deemed, "K.Flaydom, if that's a thing."
"It is a thing!" she affirmed. Welcome, all, to K.Flaydom.
It all began in 2003 while she, a student at Stanford University, randomly fell into and fell for making music. Hip-hop. Pop. Rap. Indie. Alt. It was all – and still is – in there, continuing to eschew a rigid identity. Crush Me's first single, "Blood In The Cut," is all edges and tenuously restrained darkness. Cathartic and expressive, anxious and honest.
"I think what, in my mind, ties everything together and what has guided me creatively throughout the process and all the different mix tapes, EPs, albums…it's just the real sense of honest perspective and an openness to being vulnerable. I think, in the music and that regardless of the genre, the precise genre, that that expression has taken, I feel like that's been the guiding principle. It's just one of authenticity and all the music has really just been me attempting to express something as precisely and creatively as I can."
Considering how fluid and lucent her speech is, it's no wonder that Flaherty's musical dialogue is as poetic as it is imaginative as it is dramatic. At 31, not only is she already a music industry veteran, but she's an academically accomplished one having graduated from Stanford with degrees in, both, sociology and psychology. Cerebral, a little punk rock, keenly aware of the human condition and able to lyrically actualize it, Flaherty is ready to create in a space free from limits and expectations.
In the span of her career, Flaherty has traveled the familiar roads of uncertainty: from DIY to a major label (RCA), to an independent artist. "I felt a little frustrated," she explained about her time with RCA. "But by the same token, I don't know how developed my own sense of musical self was. There were still so much about what I was doing that was very nascent at that time. It was a big learning experience."
During a Facebook Live chat in August, Flaherty announced her signing to Night Street Records (an imprint on Interscope Records created by Imagine Dragons front man, Dan Reynolds) and it is a move of profound artistic proportions. Where her time on RCA Records was marred by not knowing where her eclectic sound fit in, Night Street intends to embrace exactly who and what K.Flay is.
As for how this partnership came to be, more dots get connected: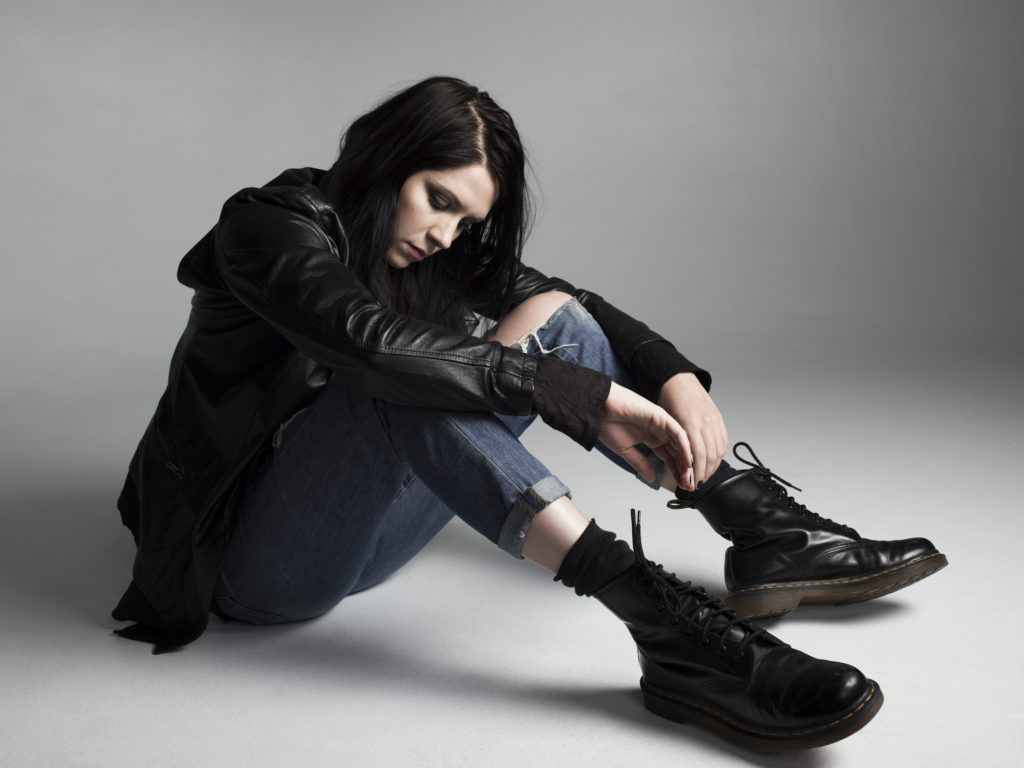 "I need noise / I need the buzz of a sub / Need the crack of a whip / Need some blood in the cut"
"Actually, to harken back to the beginning of our conversation, it happened because I was working with JT Daly, very unexpectedly and in a really cool, natural way. At the end of last year, JT and I got together to work on some music together. We went to this countryside studio that our friend built out and worked on a few songs and we just clicked immediately.
We ended up with – three songs, I think – that we worked on. It was one of those things where I sent it to my manager and we were, like, this kinda good and unexpected and I was feeling very invigorated by the experience. JT's manager is Dan's brother and manager, Mac. So Mac ended up playing the music for Dan."
Flaherty cites commonalities such as respect for the music and taking joy in the creative process as why she and Reynolds hit it off, but at the end of the day it comes down to it being an empowering relationship. "It's nice to have someone in my corner who believes in the music and wants to see it out there in the world. That's how you want it to be when you have a label partner."
From those early mix tape days to her full studio albums and EPs, the challenge has been – not only to progress as a songwriter and flesh out and express herself concisely – but to better understand the music that she truly wants to create, present and perform. And having discovered the desire to make music later in life, there's also understanding her motivation to create.
"I thought about it a lot and I was actually reminded of an experience a few days ago: When I pressed up my first CD of stuff that I had made. I picked it up, I was alone, and I felt this pretty indescribable sense of happiness and almost manic joy or elation or something at the bare fact of having made something that existed in both digital and idea forms, but also in a physical form.
Ultimately, that's what it comes back to for me: There's something grounding and hopeful and affirming for me when I can take an observation or an experience or a memory and turn that into something that physically exists and – to me – that never will get old."
Eventually, what gets created and recorded must get toured and Flaherty is no stranger to tour life as a headliner, with artists such as Snoop Dogg, Passion Pit, Dashboard Confessional and Awolnation as well as surviving a "grueling summer" on the Vans Warped Tour. With a three-piece band in tow (live drums, guitar and bass), a slew of fall tour dates have already been announced for her headlining Crush Me Tour. In the realm of artistry, the live experience is where what has been created can wind up touching people in the most unexpected ways and Flaherty is well aware of that.
"Touring really hits that home and I think that's why I enjoy being on the road so much. It's just the live show is one of the remaining physical frontiers of music, I think, in this digital age and when everyone's sweating on each other and you see what people really look like and all that. There are no filters for the live show."
The rest of 2016 will find Flaherty working to finish up her next album and first full-length on Night Street Records in between working out her live show and connecting with long time fans as well as new ones. Expect the album in 2017.
Until then, welcome to K.Flaydom.