Located in the heart of Hollywood and nostalgically known as the "House that Nat [King Cole] built," famed Capitol Studios will celebrate 60 years of legendary recordings with the Capitol Studios & WAX Record Fair at Capitol Records Tower on May 21st & 22nd.
Here's your chance to mingle with Capitol Studios staff, visit the famed recording Studios A, B and C, hear fascinating stories about artists and sessions, see the piano Nat King Cole played, experience surround sound and intimate vinyl cutting demos, and more: 60 years worth of history. Also, there will be featured performances, demonstrations, record vendors and merchandise commemorating the event. Tickets start at $10 at the door for general admission to the outdoor fair, $50 for GA with tour and $100 for VIP.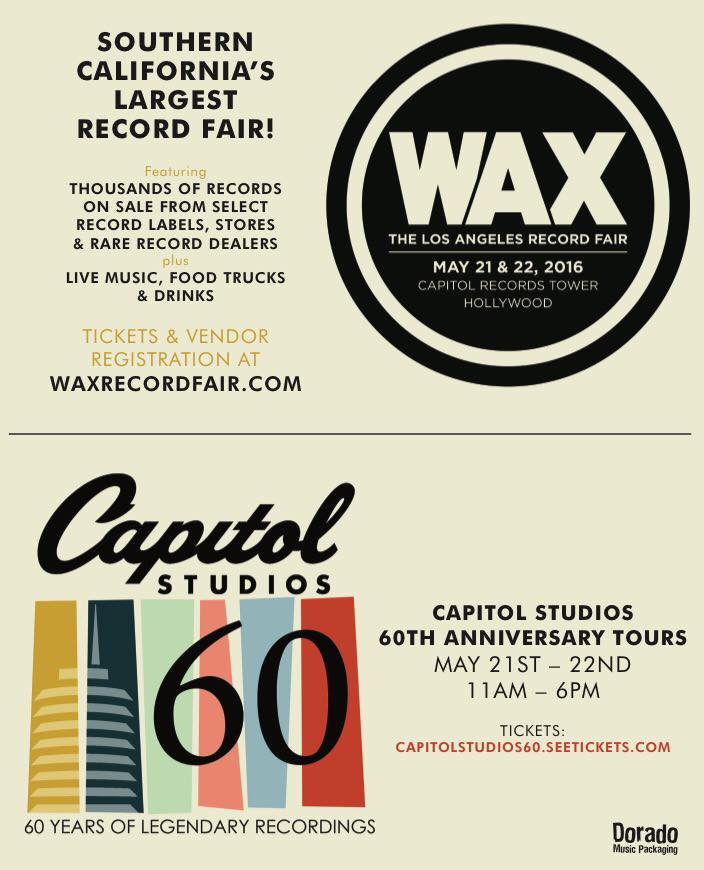 About Capitol Studios:
The Studios opened on February 22nd in 1956, and its first client was none other than Frank Sinatra, as he conducted an orchestra playing a series of tone poems inspired by poet Norman Sickel. Many other legendary artists have also graced the environs of the Studios, including names like Nat King Cole, Lady Gaga, Sam Smith, Oasis, and countless others. To tip a cap to their timeless clients and recordings from various eras, music fans are invited on the weekend of May 21st/22nd for a once in a lifetime opportunity to experience first hand why the studio has stood the test of time.
About WAX Record Fair:
WAX is the first music industry event of its kind to focus on vinyl, music lifestyle goods, and record-collecting culture. Rare record collectors, independent record stores, and labels will gather on the lot at the iconic Capitol Records building in the heart of Hollywood for the second installment of Southern California's largest and most comprehensive record event.
Confirmed artists for the event are as follows:
Saturday 5/21
Mike Watt & the Secondmen
Milo Gonzalez
War & Pierce
Pastilla
(DJs)
Girl is Tough (Delicious Vinyl)
Slimkid3 (Formerly of The Pharcyde)
Black Shakespeare (The Lions)
Ned Leamer (KXLU)
Sunday 5/22
Pearl Charles
Howler
Isaac Rother & the Phantoms
Gold Star
(DJs)
Innovative Leisure DJs
Luke Top (Fool's Gold)
You'll find the WAX Record Fair in the Capitol Records parking lot at 1750 W. Vine St. Vinyl enthusiasts, music history fans and everyone in between, come on out.