SXSW has always been about seeing as many bands as possible each day, but sometimes goals change. As we all become more aware of stress, what our bodies can and can't handle and proper nutrition, chasing 28 bands a day while putting 18K steps on your FitBit seems more and more like a terrible idea. People change. People evolve. And this year I'm taking it easy.
This isn't your traditional recap as you're talking to someone who has been naturally healing her body via optimum nutrition for the last year. More specially healing via the autoimmune paleo diet (it's stricter than paleo). So, this recap will be seen through the eyes of someone desperately searching for something to eat and a band that is worth standing around for.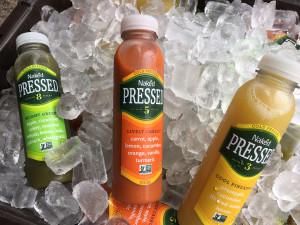 Today started off rough with a visit to the Avocados from Mexico stand, where the line-up provided led us to believe that bands were performing here. It was raining, there was free guacamole (made from recipes the bands listed on the "line-up" created), but no live music. Strike one. This pattern continued throughout the mid-afternoon; showing up to see a band who just finished playing or the schedule was so far behind you weren't going to see them or technical issues, due to the rain, caused a cancellation. That's when the day became about food. First stop, JuiceLand for a Peachy Green (that's a peach, apple, spinach, kale juice) where it was pleasing to find several gluten-free & vegan food options. Over at the Rachael Ray Feedback House they were serving up Naked Cold Pressed Juice's, the Lively Carrot is recommended. Then, while walking between events, decided to grab some gluten-free, dairy-free, soy-free tacos at Freebirds. Yummy!
There's actually been a lot of food brand discoveries at SXSW that show a healthier food shift overall this week. PepsiCo is launching two new colas made with no High Fructose Corn Syrup, sweetened with organic cane sugar (instead of stevia like Coca Cola's Life) and there's even a ginger flavored one. Peter Pan has a new line of peanut butter made with no artificial flavors, colors or preservatives. YouTube Music's event space even had a gluten-free set-up of baked goods and cold-pressed juices. And the biggest surprise of all was McDonald's loft also serving up apple slices and Cutie's.
But it's not all about food. There was some music. Specifically three bands of note: DNCE, Jack Garratt and Jonathan Tyler. DNCE is Joe Jonas' new project with Cole Whittle (Semi Precious Weapons), Jack Lawless (Ocean Grove) and JinJoo Lee. They are just as eccentric/quirky in their extremely catchy blend of pop/rock as they are as individuals. You can hear a bit of each member's personality and sense of style in each song. Recorded the pop sensibilities shine through, but live DNCE dominates. Each member delivering such a commanding stage presence you don't know where to keep focus for fear of missing out.
Jack Garratt is just phenomenal. We keep talking about him because we can't say enough good things. And tonight his already noteworthy set included a Craig David/Justin Timberlake mash-up cover done in true Jack Garratt one-man-band fashion. Brilliant.
Which leaves Jonathan Tyler, whose a little bit country and a little bit rock n roll. More on the Stevie Ray Vaughn side of things though. Long supported by High Voltage, Tyler did not disappoint. But what made his set more noteworthy than usual was it's location: Arlyn Studios (which has been a recording home to artists like Sublime, Willie Nelson, Barenaked Ladies, Ray Charles and more). Wreckroom Records has taken over Arlyn Studios for three days of killer programming and late-night jam sessions, and the space couldn't be more perfect. The energy, the architecture, the interior design, it was everything you love about Austin and just far enough away from the Downtown Austin chaos to make you stop and breathe for awhile.
Want to know more about what happened today at SXSW? Visit our YouTube channel for daily video recaps featuring interviews and live performances from a plethora of SXSW artists.