Who Killed Mister Moonlight? Bauhaus, Black Magick, and Benediction | Author: David J. Haskins  | Rating: 9/11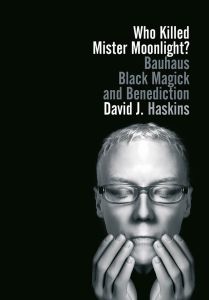 Known for their tediously abrasive (but strikingly beautiful) take on post-punk which quickly became regarded as the music aesthetic of "goth," Bauhaus is possibly the most critically underrated band of the 20th century. With an appearance as ineffably chic as it is ineffably deathly (their press photos resemble stills from German Expressionist films) and an iconic logo that has found its way onto the black leather and/or denim jackets of Western culture's most obvious aliens of the past four decades, perhaps it is for these reasons that they don't quite get the critical due that they deserve. The magnitude of their radicalism could render them to be caricatures or cartoons to those giving them a shallow reading. However, for those who look beyond the clichés associated with Bauhaus, songs like "Dark Entries," "The Passion of Lovers" and "She's In Parties" are easily as potent and lovely examples of sonic morbid chaos as "Love Will Tear us Apart," "The Hanging Garden" or "Cities In Dust."
It would seem about time that someone with some authority told Bauhaus' story, and while the obvious assumptions for such duties may be the band's most outspoken member (eerily charismatic and charismatically eerie frontman Peter Murphy, or stylishly badass and badassedly stylish guitar slinger, Daniel Ash), it actually wound up going to bassist David J. Haskins (whose brother, Kevin Haskins, handled the other half of the rhythm section, on drums). And the fact that Haskins took the reins on this will prove exceptionally delightful to fans of both the band and fans – in general – of clever, charming, witty, and well-versed prose.  Haskins proves to not only be quite comical (in both conventional and morose manners), but also very well-read in the most profound anti-heroes of the humanities, regularly referencing the likes of Artaud, William S. Burroughs and Rimbaud.
Who Killed Mister Moonlight? not only details Haskins' time in Bauhaus, but also that in the even-more-popular and nearly-as-brilliant Love and Rockets (which was essentially Bauhaus-minus-Peter Murphy) and also his lifelong fascination with magick and the occult.  The autobiography (which is billed as a "memoir") reads similarly to Morrissey's both genius and pompous (and pompously titled) Autobiography released last year.  The book is a collection of relatively chronological vignettes of the nights, friendships or projects that Haskins felt have played the most significant parts in his life and he's generally spot-on, with accounts of his experiences that would seem to be incredibly engaging to readers, whether or not they were fans of his actual art.
While it would seem slightly offensive to write off Haskins' retelling of his last thirty years, it is the first third of the book, documenting his adventures with the ghostly (sometimes "ghastly") black-leather-clad rebels that are Bauhaus, that prove to be the most intriguing.  Many of his tales resemble the accounts of Kerouac and Ginsberg recalling casual nights spent with individuals who would go on to be considered their generation's greatest artists of their field. Moments such as seeing John Lydon fronting the Pistols at the 100 Club, whom Haskins characterized as, "Hunched and twisted, Richard III in bandage/bondage drag" or becoming repeated drinking partners with the likes of Iggy Pop and The Birthday Party (with whom they toured and who Haskins claimed lived the lifestyles of more or less the ultimate Rock 'n' Roll band) or literally being tracked and stalked by a middle-aged Nico. who had quite a crush on the young Peter and came to be a close friend and "supplier" of the band. It all reads as a bit of a Bible of punk rock, equally beautiful both in its comedy and its tragedy.
Spoiler Alert: Perhaps Haskins' most profound moment in his memoir comes on page 41, when he attempts to explain the very significance of the color black, the quintessential calling-card of the the modern subculture known as "goth" that he and his band of poetic un-merry men seem to have birthed: "It is the flag of morbidity under which the anarchic troops of apolitical revolt rally before storming the barricades of convention. The nineteenth-century decadents believed that it required a highly refined sensibility to truly appreciate and savour the delights of sensual sadness and the beautiful phosphorescence of decay."